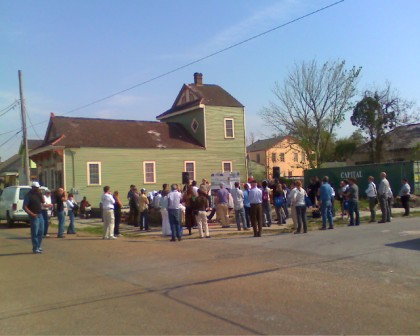 The rainy reception at the Hermann-Grima House did not dampen the spirits of those who had attended the 12th US/ICOMOS International Symposium in New Orleans.
Following tours of disaster-affected towns and neighborhoods across the region (right, photo by John Jameson) and three days of presentations and discussions, nearly 100 people gathered in the courtyard of this historic home in the French Quarter to reflect on the week's activities, make plans to continue the dialogues initiated here, and generally enjoy the collegial atmosphere of the international preservation community.
As a result of symposium efforts, US/ICOMOS is confident that this exchange can promote a national model of preparedness, response and recovery for heritage sites. The resulting plan toward developing a model will better protect American heritage and also play a significant role in translating that protection to aid our friends throughout the world. A final report to be prepared upon completion of the symposium will provide a framework for a disaster preparedness, rapid response, and sustainable recovery model that can be built upon and implemented within in the U.S and will assist with U.S. assistance provided overseas.
Pre-Conference Tour—Mississippi Gulf Coast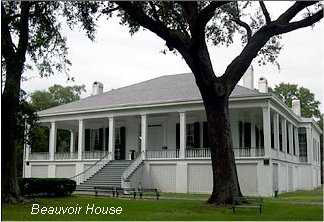 For those who arrived early, the Mississippi Department of Archives had arranged a tour of the Mississippi Gulf Coast to look at recovery efforts there. The tour visited the Old City Hall site in Waveland, the Old Main Library in Gulfport, and the Louis Sullivan site in Ocean Springs.  One of the highlights of the tour was lunch at Beauvoir (right), an 1855 raised-coastal "cottage" and the final home of Jefferson Davis, President of the Confederated States of America.  At Beauvoir, restoration work on the main house is nearing completion but is just beginning for the remaining outbuildings.
Public Lecture – US/ICOMOS International Preservation Lecture honoring Saidee Newell
On Wednesday evening, US/ICOMOS, in partnership with Historic Green, hosted a public lecture in honor of Saidee Newell.  Ms. Newell (d. 2008) was a long-time supporter of US/ICOMOS and preservation efforts in Natchitoches and elsewhere in Louisiana; in fact, she hosted the 7th US/ICOMOS International Symposium in Natchitoches in 2004. US/ICOMOS was pleased to be able to use this opportunity in New Orleans to remember Ms. Newell's contributions to historic preservation.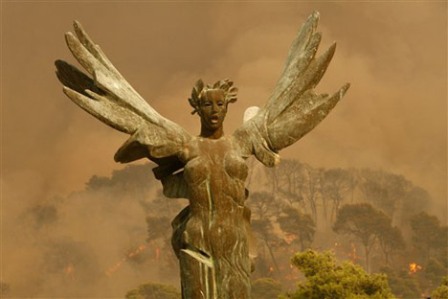 The two international lecturers effectively opened the conference by focusing on threats from natural disasters and recovery efforts that followed in two far-flung corners of the world. Tong Mingkang, President of ICOMOS China and Vice General-Director of the State Administration of Cultural Heritage of China, spoke about the recent earthquakes in China and the recovery and restoration efforts for cultural heritage. Dr. Zoe Kosmidou, Cultural Affairs officer from the Embassy of Greece in Washington, DC, spoke about the recent wildfires in Ancient Olympia (right) and the recovery and restoration efforts there.
Opening Plenary Session—International Examples
On Thursday morning in the Queen Anne Ballroom of the Hotel Monteleone, John Fowler, Chair of US/ICOMOS, officially opened the 12th US/ICOMOS International Symposium.  Jonathan Poston, Chair of the US/ICOMOS Symposium Committee, then presented the theme of "Preservation in Peril" and how it derived from his personal experience as a preservationist in Charleston, South Carolina during and after Hurricane Hugo.  His presentation was followed by Patty Gay, Director of the Preservation Resource Center of New Orleans, discussed her experience during and after Hurricane Katrina (right, Lower 9th Ward, photo by John Jameson, March 2009). The opening plenary then included a number of international examples of disaster and their effects on cultural heritage, with presentations by speakers from the Australia, Cuba, Greece, Turkey, and the United Kingdom.
Field Sessions in New Orleans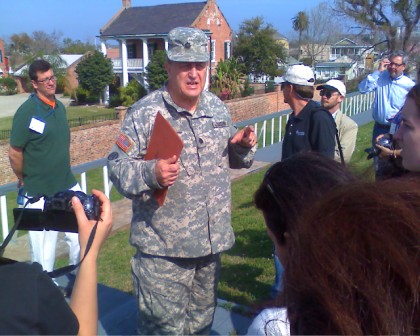 After lunch, four buses took conference attendees on tours of several sites and neighborhoods in New Orleans. Sites visited included St. Louis Cemetery No. 1, several grant-assisted preservation activities in the Lower 9th Ward, and Jackson Barracks of the Louisiana National Guard (right, Lt. Col Ryan gives a tour of the Jackson Barracks, photo by John Jameson).  Jackson Barracks, also home to the Jackson Barracks Military Museum, was built in 1834-35 as part of a new U.S. Army Post, with numerous other buildings added over the next several decades. The restoration of the Barracks is part of a $200 million effort initiated in 2006 to both repair the buildings to allow the Louisiana National Guard to use it as their headquarters and also to serve as a catalyst to help revitalize the surrounding neighborhood.
The tours also included a 1-hour charette, held in the Holy Cross neighborhood and sponsored and hosted by the Preservation Resource Center and Historic Green. The PRC is a long-standing organization in New Orleans; Historic Green is a new non-profit organization dedicated to sustainable preservation—that is, restoring old buildings using sustainable architectural approaches and techniques. Modeled somewhat after Habitat for Humanity, Historic Green is a volunteer organization that hosts week-long projects for untrained volunteers to help restore buildings and work on other community-revitalization projects.
Lessons Learned and New Approaches/Emerging Technologies
Presentations on Friday then focused on numerous examples of responses to disasters and the lessons learned from those experiences. Examples included post-tsunami efforts in Aceh, Indonesia, wildfires in California, Hurricane Hugo damage in Charleston, South Carolina, and FEMA's Historic Preservation Demolition Program in New Orleans following hurricanes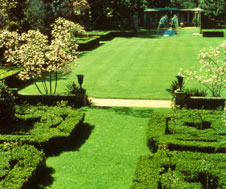 Katrina and Riva.
Other presentations focused on new technologies, such as spatial video (rapid response) documentation; fire-prevention for historic buildings; survey, analysis and intervention at an historic cemetery in New Orleans; and sustainable recovery efforts of an historic landscape in New Orleans (right, Long Vue Gardens).
Existing Frameworks for Preparedness
The final day of presentations was devoted to existing frameworks for preparedness that could be used as models or incorporated into a more comprehensive plan for disaster preparedness, response, and sustainable recovery.  These programs included COSTEP (Coordinated Statewide Emergency Preparedness) in Massachusetts, developed by the Northeast Documentation Center, hazard mitigation planning in California developed in response to requirements of the Disaster Mitigation Act of 2000, and an existing web-based emergency response system employed by numerous jurisdictions across the country.  The final speaker presented information on the US National Response Network, which the National Park Service, the Department of Agriculture, and other partners have been developing over the last several years.
Final Discussions and Follow-Up Plans
Following a presentation by representatives of Historic Green and the US/ICOMOS Annual Meeting, the afternoon was dedicated to discussion of development of a model plan for disaster preparedness, response, and sustainable recovery.  A task force was identified that will continue to work on this plan through internet discussion groups and teleconferences.
Post-Conference Tour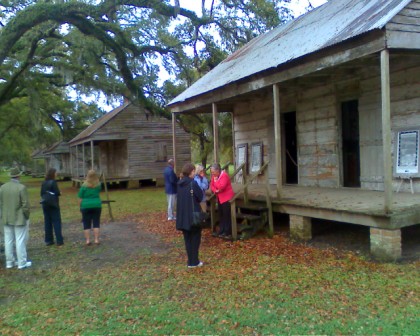 While the evening reception at the Hermann-Grima House was billed as the closing event, a number of attendees elected to take a post-conference tour of Evergreen Plantation (right, photo by John Jameson) and Homeplace Plantations on River Road.
Papers and Presentations
The papers and presentations are being collected in digital format and will be posted online in the coming weeks.