Monuments Toolkit Webinar Series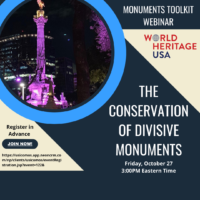 Upcoming Webinars
Friday, October 20th at 1:00pm EST – The Conservation of Divisive Monuments
Webinar Details:
The Angel of Independence, or El Ángel de la Independencia, was erected in 1910 to celebrate the centenary of the commencement of the War of Independence. A series of protests in 2019 brought greater awareness to the growing rate of violent crimes against women, or feminicide. Although it is not innately oppressive, its presence and significance in Mexico City was transformed by the intervention of protestors. After the multifaceted monument had been graffitied on August 16th, city government officials campaigned to restore it and erase the messages left by protestors. In response, the conservation community unionized to deny any attempts at restoration until their demands were met towards the recognition of feminicide by the city government. This theme introduces a unique instance of the "in-situ" aspect of the Monuments Toolkit, as well as the recontextualization of El Ángel in a transformative public space.
Please click here to register!
Future Webinars
Tuesday, November 21st at 3:00pm EST – Centering Oppressive Spaces with Digital Media II
Wednesday, December 7th at 2:00pm EST – Grassroots Projects in Public Spaces
Monuments Toolkit Webinar Series 
Nationalism and Monuments of Oppression Webinar
Controversial Monuments on Retrial Webinar
February: Webinar Representation: The Crux of Public Space
September Webinar: Re-contextualizing Monuments of Oppression
December Webinar: What is Your Mount Rushmore?
October Webinar: Centering Oppressive Spaces with Digital Media
August Webinar— Protecting the Legacy of the "Comfort Women" Through Memorials
July Webinar: Oppressive Monuments in the Museum Space
Controversial Monuments in Spaces of Regional Conflict Webinar