National Park Leaders as World Heritage Stewards from Canada, Mexico, and the USA
17 November 2022, 12 – 1 pm EST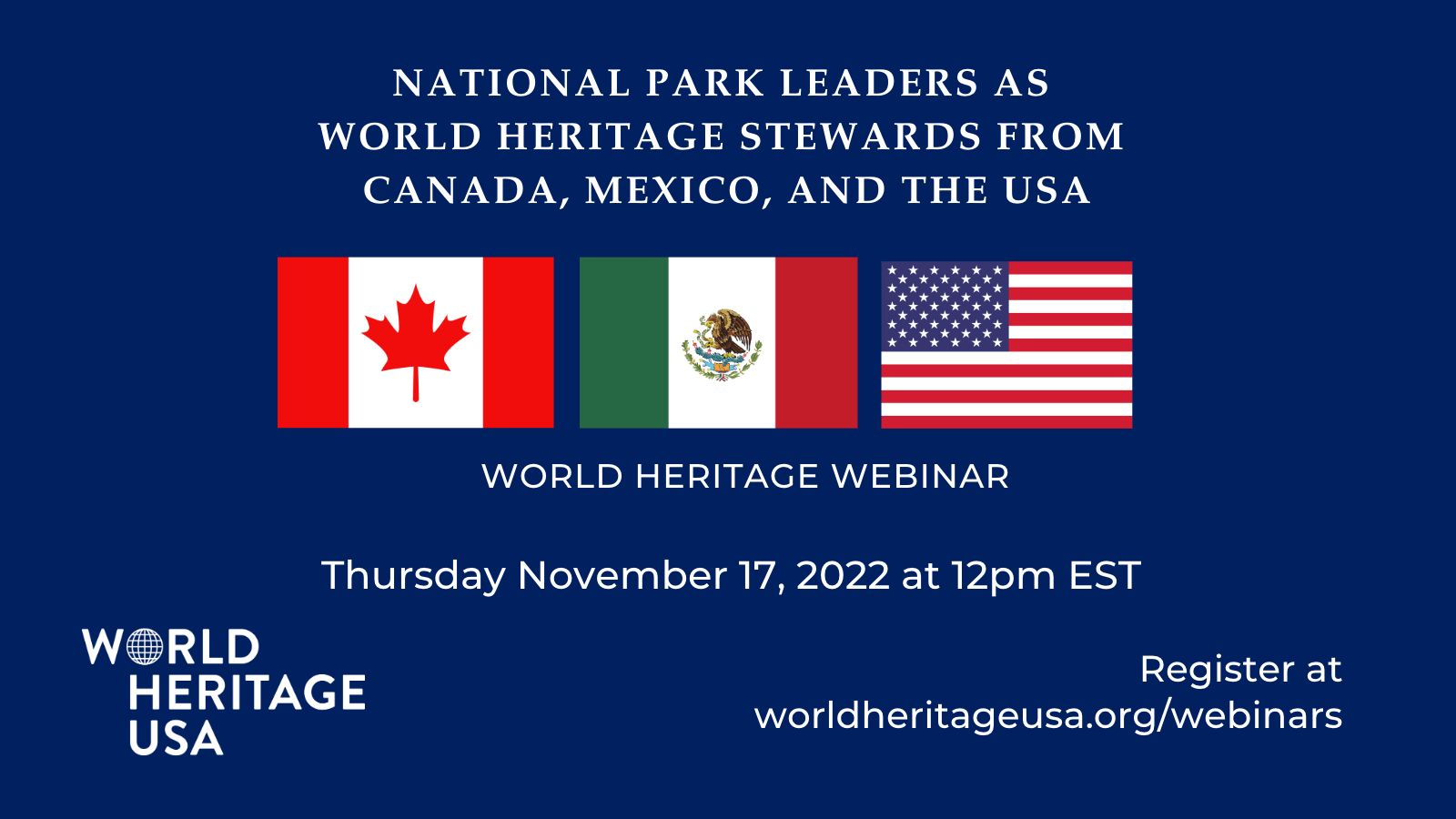 National Park leaders Ernesto Enkerlin-Hoeflich, Jon Jarvis, Alan Latourelle, and Robert Stanton will discuss the role that national parks play in the stewardship of the majority of North American World Heritage Sites. We hope that you will be able to join us at noon EST on 17 November for this gathering of leaders with combined decades of national and international heritage and conservation experience. Register here to attend. This webinar is free/contribution optional. Our moderator will be World Heritage USA Vice Chair Destry Jarvis.
Our Speakers
Ernesto C. Enkerlin-Hoeflich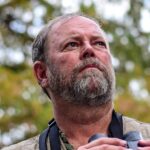 Ernesto C. Enkerlin-Hoeflich, Emeritus professor in Ecology and Sustainability Monterrey Tech and former Head of protected areas in Mexico, is a prominent thought leader and rupturist innovator in biodiversity stewardship and sustainability. Enkerlin has remained a diverse and versatile thinker countering the pressure for specialization and separation between sound science, effective policy and intergenerational ethics. He is convinced and committed to contribute to changing the rules set as the way to achieve significant and lasting change for society. He has broad experience and recognition in private, governmental, international and civil society organizations, academic and community projects through an inclusive approach. He has participated and/or led in diverse negotiations and fora related to biodiversity, nature conservation, human well-being and climate change.  His contributions have given visibility to conservation and been recognized by a number of international and national awards. 
Jonathan Jarvis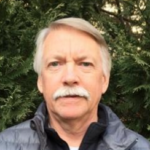 Jonathan (Jon) B. Jarvis served for 40 years with the National Park Service as ranger, biologist and superintendent in national parks across the country. He was nominated by President Barack Obama and confirmed by the Senate as the 18th Director of the National Park Service (NPS), serving for the entire Obama administration from 2009 to 2017. During his tenure, he led the agency through its Centennial, adding 22 new parks including those that recognize the contributions of women and people of color, achieved its largest budget in history, addressed climate change and raised over $400 million in philanthropic support. Retiring from the NPS in 2017, he became the Inaugural Executive Director of the Institute for Parks, People and Biodiversity at the University of California, Berkeley and now serves as Chairman of the Board. He serves as the Chairman of the Editorial Board for the Parks Stewardship Forum, an online publication for conservation practitioners and as a steering committee member of the California Biodiversity Network. His previous book, co-authored with Clemson Professor Dr. Gary Machlis, is "The Future of Conservation in America: A Chart for Rough Water", from the University of Chicago Press. His current book, also from the University of Chicago Press, is National Parks Forever: Fifty Years of Fighting and a Case for Independence" Co-authored with his brother Destry Jarvis, a long time conservation advocate, the Jarvis brothers detail the politics behind the national parks and call for the National Park Service to be established as an independent agency, akin to the Smithsonian Institution. Jarvis is the recipient of numerous awards and recognitions including the National Recreation and Park Association's Legend Award, Sierra Club's Edgar Wayburn Award and Trailblazer Award, International Union for the Conservation of Nature's Fred Packard Award and the American Alpine Club's David R. Brower Conservation Award.  
Alan Latourelle C.M.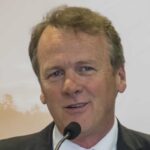 As Chief Executive Officer, Alan oversaw one of the Parks Canada Agency's most significant National Park expansions in the organization's century of operations.  The land area managed by Parks Canada was increased by 30 percent through establishment of 10 National Parks and National Marine Conservation Areas. He has also made it his personal mission to establish Parks Canada as an international leader in working collaboratively with indigenous peoples and the tourism industry.  He lead the implementation of the most significant ecological restoration program in the organization's history, the establishment of Canada's first National Urban Park in the Rouge Valley of the Greater Toronto Area, and the Agency's unwavering drive to connect youth and new Canadians to nature. He chaired the World Protected Areas Leadership Forum twice and Co-lead the "Inspiring a new generation" theme at the 2014 World Parks Congress in Sydney, Australia, where he received the International Union for the Conservation of Nature's Fred Packard Award for extraordinary contributions to protected areas conservation in Canada and around the world.  Alan also masterminded the securing of a $3-Billion federal investment in Parks Canada infrastructure, the largest in its 104 year history.  In 2018, Alan was bestowed the Order of Canada, His Country's highest level of recognition.
Robert Stanton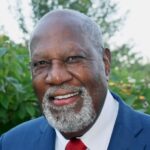 Robert G. Stanton, former Senior Advisor to the Secretary of the U. S. Department of the Interior( 2009-2014) and former Director of the National Park Service (1997-2001) is a Scholar-in-Residence at the University of Missouri-St.Louis.
Appointed by President Barack Obama, Mr. Stanton is also a former member of the Advisory Council on Historic Preservation ( 2014-2020). Mr. Stanton was nominated in 1997 by President Bill Clinton and was unanimously confirmed by the U. S. Senate as the 15th Director of the National Park Service (NPS). Under his leadership and through the work of a dedicated staff, volunteers and partners, major resource preservation and visitor service programs were inaugurated including the Natural Resource Challenge, Save America's Treasures Program, and the Underground Railroad Network to Freedom. Starting as a seasonal park ranger at Grand Teton National Park in 1962, Mr. Stanton over the course of his 35-year NPS career held key management and executive positions including park superintendent, regional director, associate director and director. He increased youth participation in conservation, improved diversity in the workforce and public programs, and supported new parks and programs that recognized the contributions of women and people of color.
Nationally recognized for his leadership in public service, Mr. Stanton has received the U.S. Department Interior's Distinguished Service Award; the Student Conservation Association's Founder's Award; and the IUCN's Fred Packard International Park Merit Award. He has participated in major international conferences including the Fifth World Parks Congress (Durban, South Africa 2003), First World Conference on Cultural Parks (Mesa Verde National Park, Colorado 1984), and the Second World Parks Congress (Yellowstone National Park, Wyoming 1972). From 2001-2003, Mr. Stanton served as the IUCN's Ambassador for the Fifth World Parks Congress. He is a co-founder of the World Protected Areas Leadership Forum.
Moderator: T. Destry Jarvis