US/ICOMOS, through a cooperative agreement with the World Monuments Fund, seeks to encourage submission of nominations for the 2010 WMF Watch List. The deadline for nominations is March 15, 2009.  Nominations for modern sites are encouraged.
Endangered Sites calls international attention to cultural heritage sites around the world that are threatened by neglect, deterioration, demolition, and natural and man-made disasters.  From archaeological sites to iconic architecture, cultural landscapes to historic city centers, the Watch identifies places of significance in need of timely attention and action.  In recent years, World Monuments Fund (WMF) has increasingly noted that in addition to facing the same physical threats as ancient structures, modern architecture often suffers from a lack of appreciation of its historical significance. For this reason, WMF encourages nominations of Modern sites to the 2010 World Monuments Watch.
Every two years, WMF accepts new nominations to the Watch, from which 100 are selected for listing. The Watch listing provides an opportunity for sites and their nominators to raise public awareness, foster local participation, advance innovation and collaboration, and demonstrate effective solutions. The Watch nomination process also serves as a vehicle for requesting World Monuments Fund assistance for select projects. More than 500 sites from over 110 countries have benefited from the seven cycles of the Watch; nearly half of these have received WMF grants, totaling $50 million.
Additional information about the 2010 World Monuments Watch and downloadable PDFs of the Guidelines and Nomination Forms are available at http://www.wmf.org/watch.html.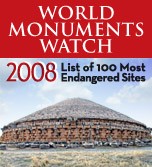 Questions or concerns about the nomination or electronic submission process should be directed to watch@wmf.org.
World Monuments Fund
95 Madison Avenue
New York, NY  10016
Tel:  646-424-9594, Ext. 243
Fax:  646-424-9593