Victory at Virden – October 12, 1898: Heritage of a Turning Point for American Labor
A Webinar in Collaboration with the Mythic Mississippi Project of the University of Illinois and Union Miners Cemetery Perpetual Care Association 
Thursday, December 7, 5:30 p.m. Central Time
Register here: https://us06web.zoom.us/webinar/register/WN_j8_sMFx-QxC8qXloe1iw9g#/registration
Panelists: John Alexander, Joann Condellone, Dale Hawkins  and Loretta Williams
Moderators: Dr. Helaine Silverman, Department of Anthropology & co-PI, Mythic Mississippi Project,University of Illinois at Urbana-Champaign; and Dr. Devin Hunter, Department of History & co-PI, Mythic Mississippi Project, University of Illinois at Springfield
On October 12, 1898, a gun fight took place in Virden, Illinois, between union miners who were locked out of the Chicago-Virden Coal Company mine and the company's private guards. The miners were protesting the company's default on their union contract and the company's importation of Black miners recruited from Birmingham, Alabama to replace them at lower wages.
The Union forces at Virden were led by a young, flamboyant, charismatic miner from nearby Mt. Olive, Alexander Bradley, known as "General." The Battle was short and brutal. Eight miners were killed, forty were wounded. Four guards were killed; four were wounded; and one railroad employee was killed. The train carrying the strikebreakers sped away without discharging the Alabamans.
Although mine companies had great power in America's mining areas, Illinois Governor Tanner refused to send the state militia in support of the coal company. This further helped the union miners to be victorious – a first for the United Mine Workers of America (UMWA) in Illinois. The union victory led to union contracts, collective bargaining, safer working conditions, and better wages for miners across the country. UMWA membership in Illinois rose from 400 to 20,000.
But the Union had trouble finding a permanent site in which to bury their dead. This led to the establishment of the Union Miners Cemetery in Mt. Olive in September, 1899. So impressed was the great labor leader, Mother Jones, with the Battle of Virden and the union organization of the Illinois miners that she requested to be buried next to "her boys" in the Union Miners Cemetery. She was, in 1930, and in 1936 a towering monument was built to her.
The Board of the Mother Jones Museum in Mt. Olive and the Board of the Union Miners Cemetery in Mt. Olive have achieved a remarkable "heritagization" of the dramatic events and labor figures in this coal mining region. This webinar discusses the history of the Battle of Virden, its aftermath in labor terms, and the heritage of Virden in Illinois and America today.
PANELISTS
John Alexander is a long-time resident of Virden and owner of a bookshop that specializes in central Illinois history and labor issues. He was a member of the civic group that created the Battle of Virden Memorial.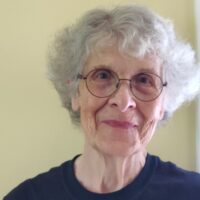 Joann Condellone is Vice President of the Friends of the Mother Jones Museum Mt. Olive, a member of the Union Miners Cemetery Perpetual Care Association, and co-founder of the Matt Melucci Italian Studies Fund at Southern Illinois University-Edwardsville.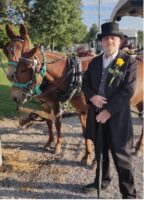 Dale Hawkins is a Union Boilermaker and an expert on coal mining history. He is a Member of the Board of the Mother Jones Museum in Mt. Olive, Illinois. He is a talented impersonator of General Alexander Bradley.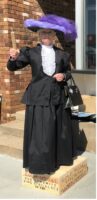 Actress Loretta Williams is a historical reenactor, famous for her personification of Mother Jones at the many events held in the town of Mt. Olive and at the Union Miners Cemetery.
Register here: https://us06web.zoom.us/webinar/register/WN_j8_sMFx-QxC8qXloe1iw9g#/registration