SUMMARY RESOLUTIONS
11th World Heritage USA International Symposium
"US Participation in the Global Heritage Community"
May 28-31, 2008 in Washington, DC
On Friday morning during the 11th World Heritage USA Symposium, John Fowler (World Heritage USA Chair) moderated a panel discussion to frame the issues for discussion in the breakout sessions that followed. The panel consisted of: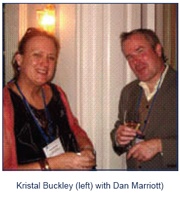 Gustavo Araoz (World Heritage USA Executive Director, ICOMOS Vice President)
Rick Ruth (US Department of State, Director, Office of Policy and Evaluation, Bureau of Educational and Cultural Affairs;Director, Public Diplomacy Evaluation Office, Office of theUnder Secretary of State for Public Diplomacy and Public Affairs),
Kristal Buckley (ICOMOS Australia and ICOMOS Vice President), and
Francesco Lanzafame (InterAmerican Development Bank).
The following breakout sessions and chairs were:
Leadership – John Fowler (World Heritage USA Chair; Executive Director, Advisory Council on Historic Preservation)
Capacity Building – Kirk Cordell (National Center for Preservation Technology and Training)
Community Building – Heather MacIntosh (Executive Director, Preservation Action)
Stewardship – Jonathan Poston (Clemson University).
The spirited discussions led to numerous recommendations for increasing US involvement in the international preservation community. The recommendations from each breakout session were presented in a plenary session on Saturday afternoon, during which all in attendance had the opportunity to comment on and add to the recommendations.
The breakout sessions also followed presentations that illustrated a number of successful international programs and preservation projects that involved US participants and agencies. Some of the highlights of these examples were:
National Heritage Areas international partnerships;
USAID funded restoration projects in Cyprus;
NPS Training Program for Afghanistani archaeologists;
Utilizing the ICOMOS network as a knowledge network for cultural landscapes;
World Monuments Fund work with partners in South America on Jesuit Missions; and
Educational exchanges such as the Fulbright program and the Richard Morris Hunt fellowship program.
During the breakout sessions, presenters had the opportunity to describe their programs more fully and talk with other participants about ways in which these programs can be duplicated, expanded, or used to serve as a model for the development of new programs.
The summary resolutions involve virtually all aspects of heritage preservation, focusing specifically on areas in which US involvement in the international preservation community is either lacking entirely or underutilized. The resolutions call for greater involvement across the US government, adding an international component to preservation education standards, developing ethics policies regarding cultural heritage protection for private sector firms operating overseas, and expanding existing partnerships and creating new ones between non-governmental organizations and between NGOs, government agencies, university programs, and private firms.
Highlights of the Resolutions
Some of the most interesting programs under discussion, during the
breakout sessions and during the closing plenary, included:
Expanding the National Heritage Areas international partnerships;
Adapting existing disaster plans for cultural heritage protection developed by the National Park Service into existing international disaster assistance programs sponsored by the US;
Creating a program, based on experience with the US system of environmental and historic preservation review, to train cultural heritage personnel in other countries how to ensure heritage issues are properly considered in international development projects funded or sponsored by the World Bank, the International Monetary Fund, etc.;
Work with preservation programs in universities to (1) include international issues in their training programs and curricula and (2) explore the existing network of overseas campuses of US universities as the infrastructure for expanded training overseas for US preservationists; and
Exploring more fully the implications of Section 402 of the National Historic Preservation Act, which calls for consideration of cultural heritage in all work overseas funded or permitted by the US government.
The resolutions that resulted are summarized below.
Federal Government
Resolutions concerning the involvement of the US Federal Government in international preservation efforts and activities were widespread, extending from greater employment of the requirements of Section 402 of the National Historic Preservation Act to encouraging the US Department of State to recognize cultural heritage preservation as an important tool of international diplomacy and, hence, to expand the inclusion of cultural heritage in existing State Department programs and activities.
The US preservation community should work to create for the political and administrative leadership of the Federal government greater awareness of the importance of cultural heritage in society and the important role cultural heritage can play in international diplomacy and cooperation. One important means of accomplishing this would be to expand the existing network of Federal Preservation Officers, hosted monthly by the Federal Preservation Institute, to include representatives from the State Department's Bureau of Education and Cultural Affairs, the Foreign Operations Office, and various units within US AID.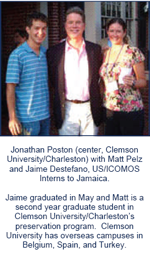 Preservation Education and Training
Current standards for preservation education in the United States were regarded by participants as fairly broad and lacking any mention of international issues at all. The standards should be updated to incorporate the policies and standards issued under the aegis of organizations such as UNESCO, ICOMOS, and others. In addition to expanding training opportunities for graduate students through international internships and exchanges, the development of new programs for bi-lateral exchanges between faculty also was recommended. Many US universities have overseas campuses, either owned directly bythe university or through partnerships with overseas universities. This network should be explored as potential infrastructure for expanding preservation education to include an international component. Such a network could facilitate short-term exchanges between students and longterm (semester or academic year) exchanges between faculty. In addition, overseas campuses might also serve as bases for overseas training programs, such as internships, field schools, and study tours.
Private Sector
The preservation community should work to develop and instill a code of ethics toward cultural heritage for the adoption and use by American private sector companies operating overseas. Educational and training programs for private sector employees also should be developed; such programs could include publicizing a list of available expert speakers on different topics.
Non-Governmental Organizations
The role of non-governmental organizations was seen as critical to success in expanding US involvement in the international preservation community, particularly with regard to developing cooperative efforts between federal agencies, universities, the private sector, and non-profit organizations. One initial program that was strongly recommended is developing a sustainablenational clearing house for all US heritage-related activities abroad.
A correlated effort would involve a comparative study of international heritage policies of international development agencies and those of other countries for models that could be replicated or adapted to the US. Working with the Federal Emergency Management Agency, universities, national heritage organizations, and others, a national network should be developed to assist with global disaster/conflict preparedness and response. The network should provide the organizational structure and capacity for rapid deployment of US heritage response and recovery teams and individual experts in response to natural disasters and in post-conflict zones.
Strategic Plan for World Heritage USA
Given the particular role of World Heritage USA—Preserve America panel cochair, convener of this symposium, and the only membership organization whose mission explicitly focuses on increasing US involvement with international preservation efforts—the resolutions that stemmed from the symposium were seen as first steps in developing a strategic plan for the organization. The resolutions highlighted several areas in which US/ ICOMOS can focus attention immediately and without significant new funding:
• improve communications with the full World Heritage USA membership to keep them informed of international heritage issues and opportunities;
• propagate ICOMOS doctrinal documents broadly in the United States, and foster the adoption of the principles contained in them at the Federal, state and local levels; and
• maximize the networking and lobbying capacity of World Heritage USA by investing on information technology.
Other areas would involve significant new funding, either to expand existing program such as the highly regarded World Heritage USA International Exchange Program, or to develop new ones, such as a mid-career exchange program for preservation professionals.
The World Heritage USA Board of Trustees is reviewing these resolutions for discussion at the summer Board meeting, scheduled for late July in New Orleans. The Board will consider such issues as funding issues, potential partners, and other factors in prioritizing the strategic plan in addition to planning the 12th World Heritage USA Symposium scheduled for Spring 2009 in New Orleans.
World Heritage USA is grateful to our members and representatives of other organizations, agencies, and private firms who lent their expertise and concern for international preservation to the symposium.
More Information