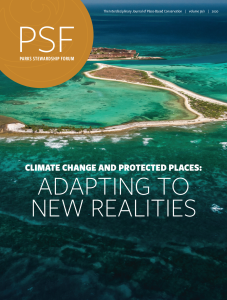 US/ICOMOS is pleased to announce that 5 papers from our 2018 Symposium "Forward Together: A Culture-Nature Journey Towards More Effective Conservation in a Changing World" have been published in the inaugural edition of the Parks Stewardship Forum, The Interdisciplinary Journal of Place-Based Conservation, an open-access journal serving the global stewards of parks, protected areas, cultural sites, and other forms of place-based conservation.
The inaugural issue, "Climate Change and Protected Places: Adapting to New Realities," looks at how protected places are adapting and building resilience to the impacts of climate change. This is a special double issue, with over 25 essays, case studies, and a concluding photographic essay that explore current approaches to the most important issue of our time.
IPPB and GWS are excited to bring Parks Stewardship Forum to the conservation community. The journal will deliver interdisciplinary information and problem-solving techniques across all topics relevant to place-based conservation.
You can find Parks Stewardship Forum on two websites, each with a distinct purpose:
On the University of California's eScholarship platform at https://escholarship.org/uc/psf. This site is designed for scholarly reference and use, with articles readable and downloadable in PDF format.
On IPPB's website at https://parks.berkeley.edu/psf. This site is designed with online browsing and reading in mind.
The content of the journal is identical on both sites; only the web interface is different.
PSF actively seeks proposals for submissions from all disciplines relevant to parks, protected areas, cultural sites, and other forms of place-based conservation.  If your proposal is approved for consideration, you have the option of a double-blind peer review or a non-peer reviewed evaluation by the journal's editors.  For more information and guidelines, please visit https://www.georgewrightsociety.org/psf.