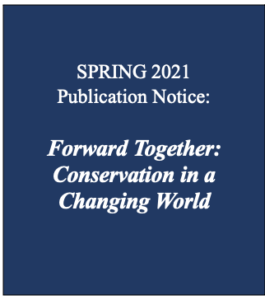 US/ICOMOS is proud to announce the Spring 2021 publication of Forward Together: Conservation in a Changing World, eds. Brenda Barrett, Jessica Brown, Nora Mitchell, Archer St. Clair and Anabelle Rodriguez.
This edited book grew out of the US/ICOMOS International Conference Forward Together: A Culture-Nature Journey Towards More Effective Conservation in a Changing World held in San Francisco in November 2018. It consists of a Forward by Mechtild Rössler, Director of the UNESCO World Heritage Centre, and 34 chapters divided thematically into four parts: Adopting a landscape approach; Recognizing intangible heritage and diverse perspectives; Enhancing resilience, adaptation and sustainability; Building capacity for change: and Recent developments and new opportunities.
Taking a dynamic multifaceted approach to conservation in the face of multiple 21st century challenges, Forward Together: Conservation in a Changing World provides an impressive case for the urgency of ambitious, coordinated action to devise ways in which the complex cultural, natural and social values of landscapes can be better integrated and managed for more sustainable outcomes and resilience in the future.
Topics include: climate change and changing human values; integration of tangible and intangible heritage; and guidance of future change through holistic and rights-based management approaches and governance that integrate scientific and traditional knowledge. While experience from World Heritage is presented in many of the case-studies in this compilation, sites protected or proposed for protection at a variety of levels and geographical locations – from national to regional and local – figure prominently as well Concerns about threats to natural diversity and cultural heritage from climate change, population pressure, natural disasters, and uncontrolled tourism resonate across thematic boundaries.
Contributing authors represent a diverse array of professional backgrounds who work in a wide variety of places across the United States and around the world. They bring experience from projects on the ground, as well as perspectives from regional, national and international institutions, agencies and programs. Stressing collaboration across disciplines, they offer innovative approaches on international, national and local levels to bridging the culture-nature divide, sustaining traditional connections to place, and engaging people in stewardship where they live and work.
Forward Together: Conservation in a Changing World will attract a multidisciplinary audience of conservation and preservation professionals, academics within the humanities and social sciences, practitioners, and stakeholders to rethink the complex values and multiple challenges within context of the interconnected nature of the natural, cultural and social values and to coordinate action to devise ways in which the multiple culture-nature values of landscapes can be better understood and managed for more sustainable outcomes and resilience in the 21st Century.
Sign up for our newsletter and follow our social media for a publication alert. The book will be published by US/ICOMOS as an open source document.