US/ICOMOS was the first of 107 national ICOMOS committees established in 1965. In the years to come, we will strengthen our ties with national committees around the world. We showcase this month ICOMOS Jordan. Platinum sponsors of the 2020 US/ICOMOS Celebration of World Heritage will be given a virtual tour of the spectacular Petra World Heritage Site in the spring. When travel again becomes possible, we will plan a special tour of Petra and other sites in Jordan. The tour will feature a visit to the Bedouin communities near Petra.
Under the leadership of HRH Dana Firas, President of ICOMOS Jordan, President of Petra National Trust, and UNESCO Goodwill Ambassador, a number of programs have been established at these Bedouin communities that extend the social and economic benefits that flow from the Petra World Heritage Site. These exemplary programs are described below.
About Petra National Trust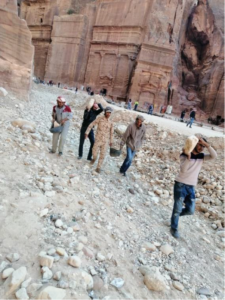 PETRA NATIONAL TRUST (PNT) is a non-governmental and non-profit organization established in 1989 for the preservation of the UNESCO World Heritage Site of Petra, and for the promotion of best practices in cultural and natural preservation in the region and beyond. PNT's President and UNESCO Goodwill Ambassador HRH Princess Dana Firas oversees the implementation of PNT's mission and the fulfillment of its vision. For over thirty years, PNT has advocated and promoted a sustainable management approach for cultural heritage sites, pioneering and executing multifaceted projects that enhance heritage sites preservation and conservation. It also has pioneered and implemented a pioneering children's education program based on cultural heritage values. PNT aims to address the urgent need to preserve and conserve the archaeological, historical, and cultural heritage of Jordan and the region, in addition to its national and international advocacy.
PNT works with Bedouin communities along with all other local communities in the Petra region. The educational, preservation and socio-economic projects led by PNT directly benefit thousands of students and local community members within these communities. The projects spread awareness and knowledge of cultural heritage value and preservation, and have orchestrated physical intervention at the site, along with empowering people economically.
Educational and Engagement programs (EEP)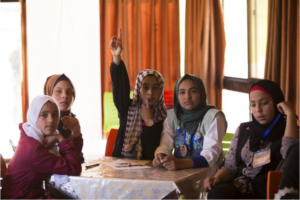 EEP is a stimulating and interactive youth education and awareness program focused on the preservation and protection of the cultural, natural, and archaeological heritage of Petra.
The program introduces the culture (peoples, traditions & practices) and history of Petra in an entertaining and engaging manner by employing a hands-on learning approach for children. It allows children to participate in multiple activities that teach them about the outstanding universal values that make Petra a World Heritage Site (WHS).
Over a thousand members of the Bedouin communities in Petra graduated from PNT's Education and Engagement programs for youth. Moreover, around one hundred graduates from four different villages, including Bedouin villages, benefited from the Awareness Program on Environmental Risks at the Petra World Heritage Site.
The Training of Trainers Program (TOT)
This program empowers teachers to take ownership of the cultural heritage education and awareness programs. It also qualifies them to apply these programs using best teaching practices. Around 25 teachers from all communities surrounding the Petra region (including Bedouin communities) have graduated from this program.
People With Disabilities (PWD) inclusive Programs 
Through this project, children and youth with simple or intermediate sight, movement, hearing or intellectual disabilities had access to an outstanding educational program focusing on developing identity and pride in their cultural heritage. PWDs from Bedouin and other surrounding communities have taken part in this project along with other participants with no disabilities, which has significantly helped to integrate PWDs with their larger community.
Vocational education and training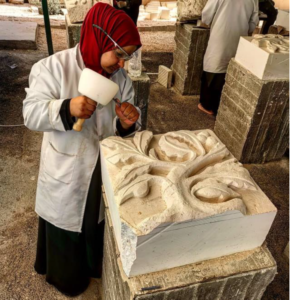 PNT supported over two hundred and fifty talented participants of the age group (16-18) in art crafts in both Petra region and Mafraq (North-east Jordan). The vast majority of these participants came from Bedouin communities residing in both areas.
Preservation projects
PNT has hired over 25 workers in projects that included physical interventions in Petra. 50% of the site workers came from the Bedouin communities in the Petra region. Furthermore, surrounding Bedouin communities have benefited from the capacity building programs of the project, and the wider community has economically benefited from the project supply chain.
The Cultural Exchange Program: Illuminations through Music and Heritage (CCH)
Illuminations through Music and Heritage is a program funded by the U.S. Department of State's Bureau of Educational and Cultural Affairs and administered by World Learning, with an executive partnership between PNT and Pacolet Junior Appalachian Musicians (PacJAM) at Tryon Fine Arts Center in North Carolina. The program aims to build bridges of understanding between two cultures (USA & Jordan) through music and songs as a way to discuss cultural heritage and music.
Around 20 male and female participants of the age group 13-18 have joined the program, of whom, 8 participants came from Bedouin communities.
Digital Empowerment for Cultural Heritage Associations in Petra 
In response to the pandemic, PNT has launched an internationally-funded project aimed at building the capacities of local women's associations and non-profit organizations in the Petra region in the digital transformation of their business and to support the handicrafts sector. The project also focused on continuing the heritage educational experience for local students through online curricula, focusing on cultural heritage through interactive and engaging online activities. A total of 13 associations from the Petra region have participated and benefited from this project, of which, 3 associations were from Bedouin villages.