In April 2016 the Newport Restoration Foundation convened the first Keeping History Above Water conference in Newport Rhode Island. In October of 2017, the City of Annapolis convened the second conference, drawing more than 250 experts and practitioners to discuss the varied risks posed by sea level rise to historic coastal communities. To get a better sense of the proceedings, day-by-day coverage of the conference's keynotes, panels, and breakout sessions are already available on the conference's website (Day 1, Day 2, Day 3). Looking back, however, it's worth reflecting on some of the major themes that emerged over the four days, and the lessons to be drawn from them.
 1. There is Growing Interest in the Issue:
Following up on the first conference in Newport, Rhode Island in 2016, Keeping History Above Water: Annapolis featured a largely new slate of speakers and attendees, drawing from around the United States and abroad. Encouragingly, many of those present were not historic preservation professionals—increasingly, politicians and government officials are recognizing the threat climate change poses to their historic resources, and are joining in this conversation. At the same time, environmentalists are recognizing the role heritage can play in inspiring action and informing adaptation efforts. Even with the conference primarily focused on the intersection of climate change and historic preservation, it is clear that this conversation is important to more than just preservationists.
The weeks following the conference have seen the conversation continue in a number of venues. Representatives of US/ICOMOS attended the COP23 conference in Bonn, Germany, which featured a number of sessions highlighting the threat climate change represents to global heritage, but also the role heritage can play in helping us adapt to a changing climate. On November 16th, the JM Kaplan Fund awarded its Innovation Prize to Victoria Hermann, a speaker and participant at both Keeping History Above Water conferences, to support her Rising Tides project, which will connect pro bono experts with climate-affected communities. And in early December, Arizona State University will host a conference on Climate Change and Tribal Cultural Heritage. The topic of climate change and heritage has expanded greatly since Newport Restoration's Foundation's first Keeping History Above Water conference in Newport, and it will continue to grow.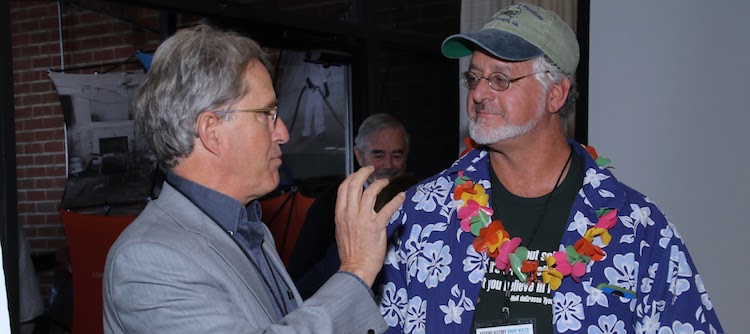 2. The Problem is Real—And There Are Shared Experiences. 
No two places will experience climate change in the same way, but over the course of the conference program a number of themes emerged, demonstrating how many communities are facing similar problems. Increased precipitation, flooding, and salt exposure will force many historic sites to adopt new conservation and maintenance strategies. For the most threatened sites, elevation, relocation, or even abandonment of certain resources will have to be considered. Moving forward, preservationists and site managers will need to share knowledge and develop best practices to respond to these challenges.
The conference also underscored that historic preservationists are going to be working a lot more closely with the Federal Emergency Management Agency (FEMA) over the coming decades. FEMA can act as a source of both funding and expertise when planning for and recovering from natural disasters, and communities like Annapolis and Philadelphia are already producing Cultural Resource Hazard Adaptation and Mitigation Plans using FEMA's guidelines. At the same time, FEMA's emphasis on elevating flood-prone buildings can pose problems in many historic districts, where a piecemeal approach to building elevation could fundamentally change a neighborhood's character. When a historic district has height restrictions in place, elevation as a mitigation strategy can be even more problematic, with buildings getting squeezed from above and below.
 3. We Need Plans—But We Also Need Action.
Much of this year's conference was focused on planning for sea level rise: creating inventories of historic resources, gauging community sentiment, evaluating risks, and setting priorities for protection. This kind of planning process is critical, especially when making hard decisions about shared or public resources. Resource inventories and economic impact studies can all help make the case for protecting cultural resources from climate change. Emergency response plans can help protect heritage when disasters strike, and hazard mitigation plans can help us allocate our resources most efficiently when adapting to sea level rise.
At the same time, we can't plan forever. Climate change and sea level rise are already affecting historic resources around the world, and the rate of change is likely to accelerate over the 21st century. Communities from Alaska to Louisiana are already making plans to relocate in response to sea-level rise and coastal erosion. Preservationists and heritage professionals tend to be risk-averse, careful not to take any action that could threaten the integrity of a resource. But we have to acknowledge the threat of climate change is already here. If we wait too long to respond, the next storm may make our choices for us.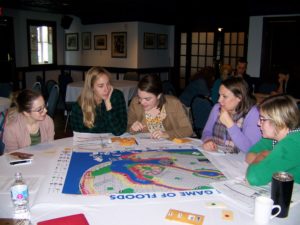 4. New Coalitions are Going to Lead the Way.
In many ways, these are challenging times for those working to protect our historic communities from climate change. Across the U.S. Federal government, support for climate science and adaptation is being cut. The National Park Service has been a leader in protecting cultural resources from climate change, but it is unclear how much longer these initiatives will be supported. Recent proposals to eliminate or reduce the Federal historic tax credit, one of the most potent historic property redevelopment incentives available, have left preservationists feeling under attack. In Florida, a state uniquely threatened by sea level rise, the state's governor has actively impeded efforts to study or mitigate the impacts of climate change.
In the absence of national leadership, new coalitions are forming to address these issues. Four counties in South Florida have joined together to plan for climate change on their own. American cities and states have begun sending their own delegations to international climate talks and have committed to upholding the Paris Accord, even if the United States withdraws as a nation. Tribal governments and indigenous groups are working together to protect their landscapes and ways of life. Universities, non-profits, and citizen scientists are collaborating to monitor impacts around the country. These kinds of diverse, grassroots coalitions will be critical to protect our shared heritage in the face of climate change, and Keeping History Above Water is proud to be a part of this project.