Thursday, May 27, 2021, 12 to 1 pm EDT (9-10 am MDT)
Indigenous people have lived in and around the Grand Canyon since time immemorial, yet up until recently their cultural heritage and history have largely been unknown at the National Park (NP) and World Heritage Site (WHS). In this webinar, Grand Canyon NP Superintendent Ed Keable, staff and colleagues from tribal communities and stakeholder groups will discuss efforts underway to educate and inspire visitors with new perspectives on Grand Canyon's tribal past, present and future. Join us to learn about how the park is incorporating first-voices and perspectives into its management and interpretive programs and how re-envisioning the experience at the Desert View area of the park will expand the visitor experience and provide for native people to share their histories about Grand Canyon as home.
OUR SPEAKERS
Dorothy Firecloud, National Park Service (NPS) Assistant to the Director, Native American Liaison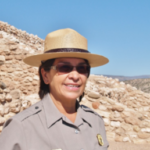 Dorothy FireCloud is a member of the Rosebud Sioux Tribe. She has a Juris Doctorate from the New Mexico School of Law and has been a member of the New Mexico State Bar since 1991. In her role overseeing the NPS Office of Native American Affairs (formerly the American Indian Liaison Office), Dorothy provides guidance and support to NPS field and program managers to strengthen relationships with Native American, Alaska Native, Native Hawaiian, and other indigenous communities. Before beginning this role in October, 2020, Dorothy served as the superintendent at Montezuma Castle National Monument and Tuzigoot National Monument in Arizona. Prior to joining the NPS, she worked on water rights with the Bureau of Indian Affairs and held several positions with the U.S. Forest Service, including acting district ranger at Tongass National Forest, acting deputy forest supervisor at Black Hills National Forest, and acting director for the tribal relations program in Washington D.C.
Mae Franklin, Navajo Nation member and Cameron Chapter resident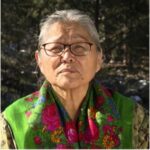 Mae Franklin is a member of the Grand Canyon Inter-tribal Working Group. Mae has worked for both the U.S. Forest Service and National Park Service, where she recently retired as the tribal liaison for the Kaibab National Forest.
Edward T. Keable, Superintendent, Grand Canyon National Park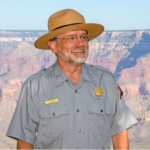 Edward T. Keable is the Superintendent of Grand Canyon National Park. Before coming to the National Park Service, Ed served as the Associate Solicitor of General Law in the Office of the Solicitor, U.S. Department of the Interior, in Washington, DC. He has held multiple Senior Executive Service positions in the Office of the Solicitor since 2003. His areas of legal practice included Federal procurement law, torts, intellectual property, personnel law, civil rights, labor law, information law (the Freedom of Information Act, the Privacy Act, the Federal Records Act, e-discovery), appropriations law, administrative procedure, constitutional law, government ethics, and departmental management. His philosophy focuses on merging management with leadership—and making sure that he gets out into the field to meet staff where they work every day.
Grace Lilly, Interpretive Park Ranger, Grand Canyon National Park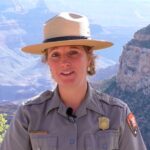 As an Interpretive Park Ranger, Grace Lilly has been instrumental in developing and growing the cultural demonstration program at Desert View, working with cultural demonstrators and artists on bringing their work to the public.
Jack Pongyesva, Program Manager for the Intertribal Centennial Conversations Group (ICCG), Grand Canyon Trust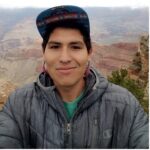 Arizonan Jack Pongyesva grew up in Oak Creek Canyon and attended Flagstaff High School and spent many weekends, summers, and school breaks in Hotevilla, on Third Mesa of the Hopi Reservation. Jack began his work as ICCG Program Manager in 2018. The ICCG program functions under the guidance of 35 Native community leaders from the 11 associated Grand Canyon Tribes, to bring all aspects of Indigenous presence and history back to the canyon over the next 100 years and beyond.
OUR MODERATOR
Jan Balsom, Chief, Communications, Partnerships and External Affairs, Office of the Superintendent, Grand Canyon National Park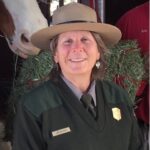 Jan Balsom began her work at Grand Canyon National Park as a volunteer in 1981, becoming a seasonal employee in 1982, and serving as Park Archaeologist from May of 1984 until May of 1995. She then moved into the position of Chief of Cultural Resources until 2007, when she became the Deputy Chief of Science and Resource Management. In 2016, Jan became the senior adviser to the Superintendent of the Park, continuing her work on high profile stewardship issues and tribal programs. Jan has recently accepted the lead position for Communications, Partnerships and External Affairs at Grand Canyon. Jan received her Bachelor's in anthropology from SUNY at Buffalo and her Master's in anthropology from Arizona State University. Jan was the recipient of the 2011 National Park Service Intermountain Regional Director and National Park Service Director's Award for Natural Resource Management. In addition to her work with the National Park Service, Jan serves as the federal representative to the Arizona State Historic Sites Review Committee.