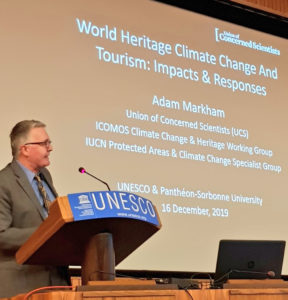 In mid-December Adam Markham was invited to give the keynote address for the 10th Seminar organized by the UNESCO Chair on Culture Tourism and Development, Maria Gravari-Barbas of the Sorbonne. The meeting, which took place at UNESCO Headquarters in Paris, was opened by Mechtild Rossler, Director of the World Heritage Centre.
Adam's talk was titled "World Heritage, climate change and tourism: impacts and responses", and was followed by two fascinating panels consisting of academic experts and World Heritage site managers. Also presented were a shocking report on the damage caused by recent flooding in Venice by Pierpaolo Campostrini, the Director General of the Venice Lagoon Research Consortium (CORILA); climate resilience strategies under development for the cities of Edinburgh, Scotland, and Regensburg, Germany; the Neolithic sites of the Orkney Islands; and the living landscapes of the Cevennes in France. Strategies to develop sustainable tourism strategies in a changing climate were discussed for Lunenburg and Quebec in Canada, the Monastery of Poblet in Catalonia and Peru's Lambayeque region. The workshop proceedings will be published jointly by the University of Paris and UNESCO.
Adam, who is serving his first term as a US/ICOMOS trustee, is deputy director of the Climate & Energy program at the Union of Concerned Scientists (UCS). He helps lead UCS efforts to persuade policymakers to rapidly and effectively respond to the climate crisis, focusing particularly on climate impacts to national parks, protected areas, and cultural heritage. In 2014 he co-authored the UCS report National Landmarks at Risk, which detailed climate impacts on U.S. historic and archaeological sites. In 2016, he was the lead author for a UNESCO/UNEP/UCS report, World Heritage and Tourism in a Changing Climate, which helped bring global attention to the threat of climate change to World Heritage sites.