A Unique Partnership: Redwood World Heritage Site and Affiliated Tribes
This webinar took place 23 February 2023, 1 pm EDT / 10 AM PDT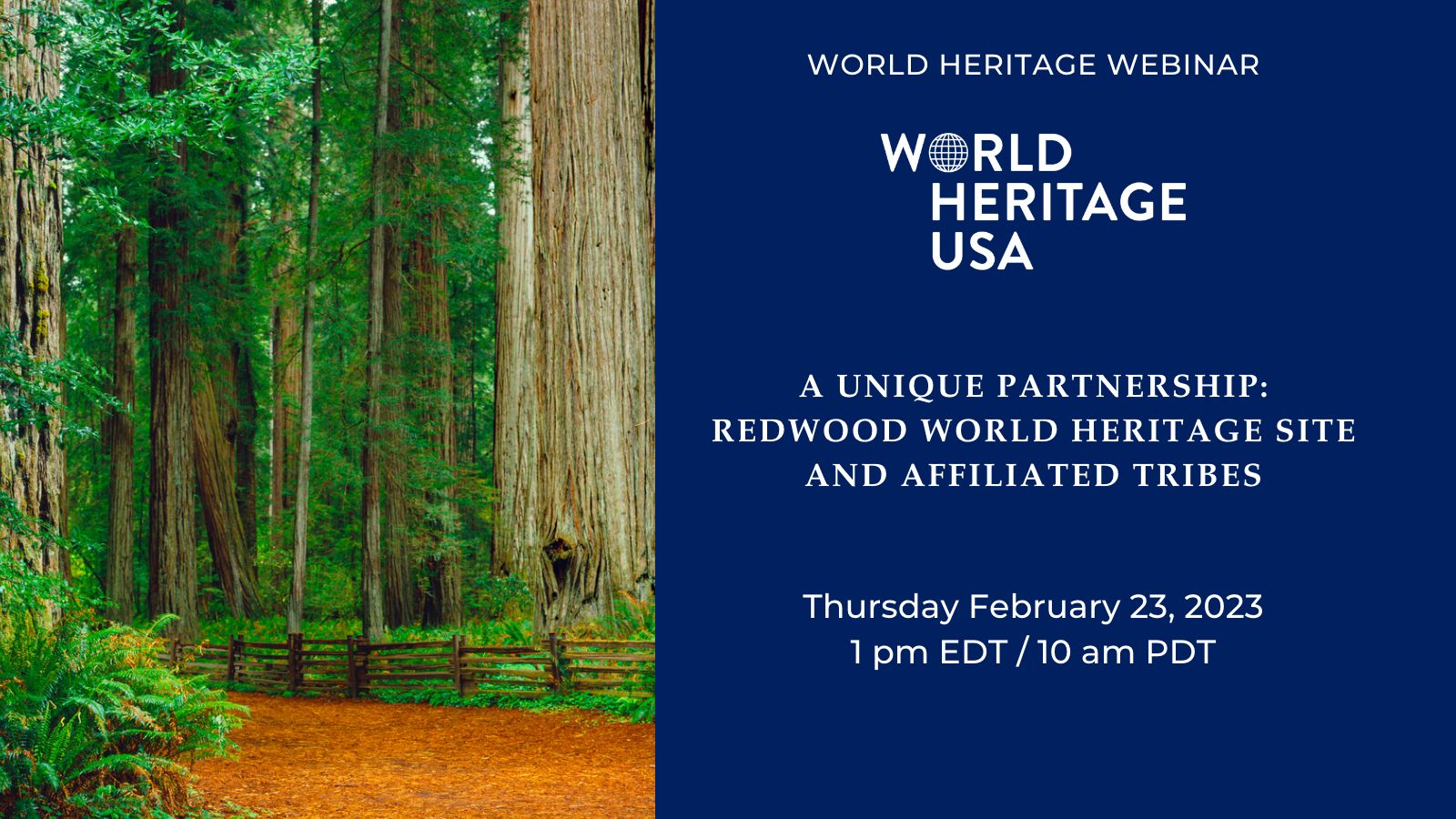 Inscribed as a World Heritage Site in 1980, Redwood National and State Parks preserve the largest remaining contiguous ancient coast redwood forest in the world. Redwood is unique among U.S. World Heritage Sites in its combination of national and state park leadership. Now, thanks to an initiative on the part of the U.S. National Park Service (NPS) and California State Parks (CSP), the site is also including culturally affiliated tribes in decision making. Join Steven Mietz, NPS Redwood Park Superintendent, Victor Bjelejac, CSP North Coast Redwoods District Superintendent, tribal representatives Cynthia Ford and Jaytuk Steinruck from the Tolowa Dee-ni' Nation, and Rosie Clayburn from the Yurok tribe to learn about the outstanding universal value and ongoing restoration of the parks. Karin Grantham and Leonel Arguello will also join us for the Q&A portion of the webinar.
This webinar was free/contribution optional. Our moderator will be World Heritage USA Vice Chair Destry Jarvis.
Our Speakers
Victor M. Bjelejac, District Superintendent, North Coast Redwoods, California State Parks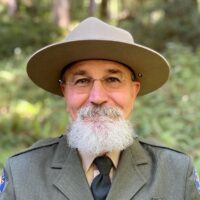 Victor has been with California State Parks since 2007. His collaborative resource work and partnership focus for land management across jurisdictions began in earnest in 2008 and includes work with local tribes, federal, state and local agencies as well as non-profit organizations. Victor is a Registered Professional Archaeologist and has a B.A. and M.A. in Anthropology from San Francisco State University.
Rosie Clayburn, Tribal Historic Preservation Officer/Cultural Resources Director, Yurok Tribe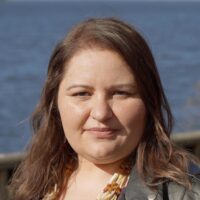 Rosie Clayburn has been with the Yurok Tribe since 2003, when her career began as a high school intern for the Cultural Resources Program. Since then, she has advanced to become Tribal Historic Preservation Officer and Cultural Resources Director of the Yurok Tribe. As the Tribe's Principal Investigator, Rosie has completed numerous cultural resources studies regarding Traditional Cultural Properties and Traditional Landscapes throughout Yurok ancestral territory. As the leader of ongoing Repatriation efforts, she has returned home thousands of cultural items from institutions and private collections. Additionally, Rosie has developed and designed numerous interpretive projects. Currently, Rosie is overseeing the Chah-pekw O' Ket'-toh (Stone Lagoon) Visitor Center, the first Tribally operated Visitor Center in the California State Park system. In her current role at the Tribe, she works closely with the Yurok Tribal Council and outside agencies to make sure indigenous peoples' voices are heard on all major decisions.
Cynthia Ford, Tribal Historic Preservation Officer, Tolowa Dee-ni'nNation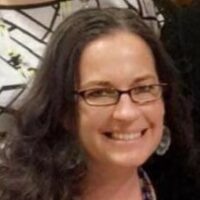 Cynthia Ford is the Tribal Heritage Preservation Officer (THPO) for the Tolowa Dee-ni' Nation. As THPO, Cynthia is responsible for identifying and implementing Tribal goals, objectives and activities to promote Indigenous led historic preservation and protection of Tolowa Dee-ni' cultural resources; and to ensure compliance with Federal and Tribal laws through coordination and facilitation of consultation with Federal, State, Tribal and local agencies. Cynthia previously served as a Tolowa Language Teacher and the Habitat & Wildlife Program Manager for the Nation. She has over 20 years of experience collaborating with Indigenous communities, educational institutions, Federal, State and local agencies; and is an active steward and educator committed to the preservation, revitalization and perpetuation of Tolowa Dee-ni' cultural resources and lifeways.
Steven Mietz, Superintendent, Redwood National and State Parks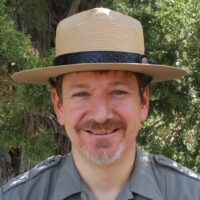 Steve has been with the National Park Service since 2003 serving previously as Superintendent of Point Reyes National Seashore, Pearl Harbor National Memorial, Great Basin National Park, and Missouri National Recreational River, as well as Deputy Regional Director in the Pacific West Region and Associate Regional Director for Natural Resources Stewardship and Science in the Midwest Region and as Natural Resource Chief and GIS Coordinator at Grand Canyon National Park. Prior to working at Grand Canyon, he worked with the U.S. Geological Survey's Grand Canyon Monitoring and Research Center, U.S. Fish and Wildlife Service's Grizzly Bear Recovery Program, the University of Montana's Flathead Lake Biological Station, and the Confederated Salish and Kootenai Tribes of the Flathead Nation. Steve earned his B.S. in Policy Analysis from Cornell University and M.S. in Environmental Studies from the University of Montana.  
Moderator: T. Destry Jarvis