Diversifying Heritage in the United States
This webinar took place Thursday, April 22, 2021, 12 to 1:30 pm EDT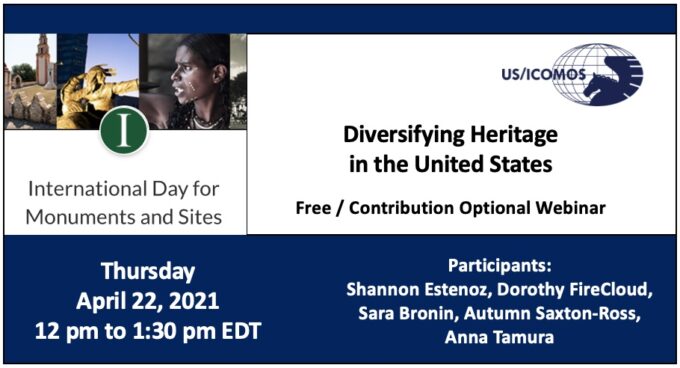 With the theme "Complex Pasts, Diverse Futures," World Heritage Day 2021 invites us to re-examine our existing heritage practices and narratives in order to create a more diverse and inclusive future for all. Our April 22nd World Heritage webinar "Diversifying Heritage in the United States" informs attendees about what the U.S. is doing to achieve these ends and provides perspectives from four diverse voices about opportunities for positive change.
The webinar begins with a keynote presentation by Shantha Ready Alonso, Director of Intergovernmental and External Affairs , U.S. Department of the Interior (DOI)  who describes the agency's commitment to diversity, equity, and inclusion. Shantha's presentation is followed by short presentations and a panel discussion by four professionals sharing their diverse perspectives on U.S. heritage and steps we can take to make our programs and society as a whole more just and inclusive.
We stand at an exciting moment of opportunity in the United States and globally. Please enjoy this timely discussion!
OUR SPEAKERS
Shantha Ready Alonso, Director of Intergovernmental and External Affairs , DOI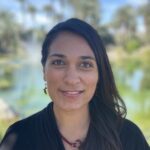 Shantha Ready Alonso oversees the Office of Intergovernmental and External Affairs (OIEA) which strengthens relationships between state and local partners and external stakeholders with the Office of the Secretary. OIEA also serves as liaison for governmental and non-governmental partners in communicating with Departmental offices and the Bureaus. Previously, Shantha served as the Executive Director of Creation Justice Ministries, Community Mobilization Manager for NETWORK Catholic Social Justice Lobby, and Director of the National Council of Churches Poverty Initiative. Shantha was listed among the 2018 "Grist 50 Fixers" and was awarded the 2020 National Council of Churches USA J. Irwin Miller Excellence in Ecumenical Leadership.
Sara C. Bronin, Thomas F. Gallivan Chair in Real Property Law and Faculty Director, Center for Energy and Environmental Law, University of Connecticut School of Law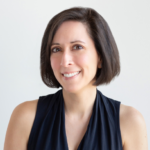 Sara Bronin is a Mexican-American architect, attorney, and policymaker who has written two books and many articles on historic preservation law, focusing on its intersection with renewable energy, energy efficiency, affordable housing, and cultural inclusion. She serves as an advisor for the National Trust for Historic Preservation and the Sustainable Development Code, is a board member of Latinos in Heritage Conservation, and leads Desegregate Connecticut. She holds an endowed chair at UConn Law School and has served as a visiting professor at the Yale School of Architecture, the Sorbonne in Paris, and universities in Switzerland and Korea. She is the author of the forthcoming book, Key to the City.
Dorothy Firecloud, National Park Service (NPS) Assistant to the Director, Native American Liaison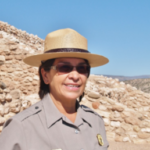 Dorothy FireCloud is a member of the Rosebud Sioux Tribe. She has a Juris Doctorate from the New Mexico School of Law and has been a member of the New Mexico State Bar since 1991. In her role overseeing the NPS Office of Native American Affairs (formerly the American Indian Liaison Office), Dorothy provides guidance and support to NPS field and program managers to strengthen relationships with Native American, Alaska Native, Native Hawaiian, and other indigenous communities. Before beginning this role in October, 2020, Dorothy served as the superintendent at Montezuma Castle National Monument and Tuzigoot National Monument in Arizona. Prior to joining the NPS, she worked on water rights with the Bureau of Indian Affairs and held several positions with the U.S. Forest Service, including acting district ranger at Tongass National Forest, acting deputy forest supervisor at Black Hills National Forest, and acting director for the tribal relations program in Washington D.C.
Autumn Saxton-Ross, Ph.D., Vice President of Education and Chief Equity Officer, National Recreation & Park Association (NRPA)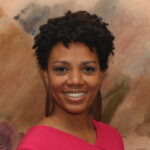 Before beginning her role at NRPA, Autumn Saxton-Ross served as the mid-Atlantic regional director and equity, inclusion and diversity lead for NatureBridge, the largest residential environmental education partner of the National Park Service. Autumn's strategic role at NRPA reflects the priority of the CEO, Board and the organization to advance its equity work, particularly its racial equity and intersectional work in the parks and recreation field. In this role, Autumn ensures that NRPA's educational offerings, membership and certification programs, and affiliate and affinity group engagement efforts support NRPA's educational goals and its core pillars of social equity, health and wellness, and conservation.
Anna Tamura, Planning Portfolio Manager, Pacific West Region, National Park Service (NPS)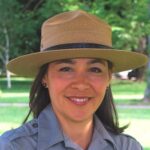 Anna Tamura works with 60 national park units in the Western states and Pacific Islands to provide guidance and support in addressing large-scale planning issues. With 20 years of NPS experience as a landscape architect and park planner, Anna has led studies, park management plans, and the development of existing and new national parks. During her career, she has focused on complex cultural landscapes and civil rights sites. She is a subject matter expert on the World War II Japanese American incarceration sites. A third generation Japanese American, Anna's family members were incarcerated during World War II. She is a founding member of the Minidoka Pilgrimage, an annual event in its 18th year for survivors, their descendants, and allies to visit the Minidoka National Historic Site in Idaho and educate all people about the unjust incarceration of Japanese Americans during World War II.
Our webinars are free but we would appreciate your support!