Past World Heritage Webinar
Managing Visitation at U.S. World Heritage Sites 
This webinar took place March 24, 2022, 12 – 1 pm EDT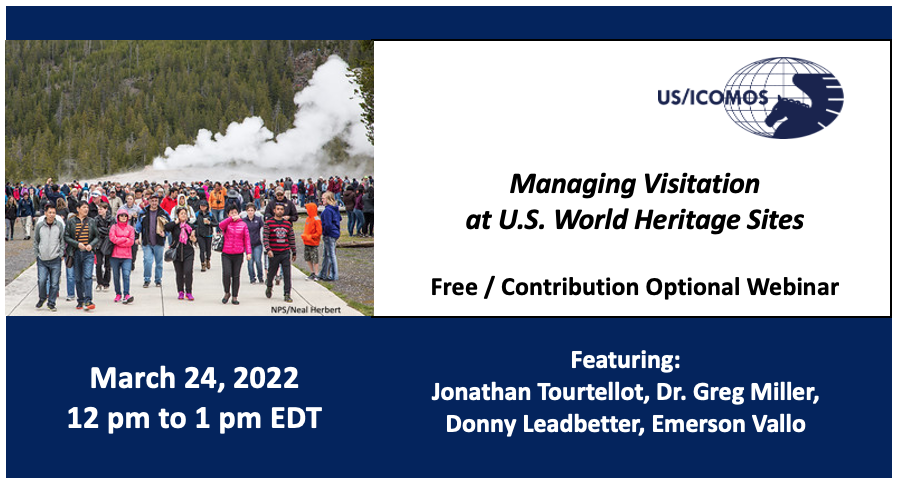 Finding the right balance between economic development and the needs of the community and environment is difficult. Tourism has boomed across the world over the last few decades and World Heritage Sites in the United States have been under pressure from the millions of tourists that flock to them each year. In this webinar, we explore different approaches to sustainable tourism from managers at the National Park Service, The American Indian Alaska Native Tourism Association (AIANTA), and the Center for Responsible Travel. Over the course of the webinar, we will hear about best practices from speakers with years of experience managing visitation at heritage sites.
Jonathan B. Tourtellot, CEO, Destination Stewardship Center; Editor, Destination Stewardship Report e-quarterly; National Geographic Explorer; Principal, Focus on Places LLC
Journalist, editor, speaker, and consultant, Jonathan Tourtellot runs the nonprofit Destination Stewardship Center (DSC), successor to National Geographic's former Center for Sustainable Destinations, a program he founded and directed to promote tourism approaches that incentivize protection of natural and cultural heritage. During his three-decade career as a senior editor with National Geographic he wrote and spoke about travel, geography, the environment, and science. He has written about World Heritage and tourism for National Geographic Traveler and UNESCO's World Heritage magazine. He initiated and supervised the annual Destination Stewardship surveys reported 2004-2010 as the cover stories in Traveler, including one survey exclusively of World Heritage destinations. In recent years he has focused on creation of destination stewardship councils, citizen inclusion, sense of place as a key element of sustainability, and overtourism, notably as one of the contributing authors in the CREST book Overtourism: Lessons for a Better Future (Island Press, 2021). He is a cofounder of the Future of Tourism Coalition and has served on the U.S. National Commission for UNESCO.
Gregory A. Miller, Ph.D.
Dr. Gregory Miller is the Executive Director of the Center for Responsible Travel (CREST). He is a leader in responsible tourism, public-private partnerships, and a trained environmental scientist who believes in working globally, acting locally, and protecting our precious natural and cultural resources. Greg joined CREST as Executive Director in 2019, bringing to the organization a global track record of high-impact results in sustainable travel and recreation, biodiversity conservation, and policy development. He is also a founder of the global Future of Travel Coalition, as well as the Outdoor Alliance, National Wilderness Stewardship Alliance, and Parks in Peril program.
A native of California, Greg holds a Ph.D. in Ecology from the University of Connecticut and graduated from the University of California, Santa Barbara with a B.A. in Botany. In addition to his executive experience, Greg worked for several years as a naturalist-guide in the Galápagos Islands, Andes, and Amazon, served on the boards of The Ecotourism Society, Biodiversity Support Program, and Blue Ridge Center for Environmental Stewardship, and has held a lifelong commitment to environmental stewardship and exploring the outdoors responsibly.
Donald Leadbetter
Donald Leadbetter is the Tourism Program Manager for the National Park Service, where he coordinates engagement with the travel and tourism sector and facilitates collaboration in support of destination management and responsible tourism that benefits parks, visitors, and communities. In addition to providing external coordination and representation of the National Park Service at tourism industry forums, trade shows, and meetings, he collaborates with program areas throughout the agency to support tourism-related planning and management in alignment with the mission of the National Park Service.
Emerson Vallo
Emerson R. Vallo, a tribal member from the Pueblo of Acoma, is the President of the Board of Directors for the American Indian Alaska Native Tourism Association (AIANTA). Emerson is on his second term as a Tourism Commissioner for the New Mexico Tourism Department; he is the Native representative for tourism in New Mexico. He has also served as the Chairman of the Board of Directors for Acoma Business Enterprises, Chairman of the Board of Trustees for Haak'u Museum, and the Director for Sky City Cultural Center and Museum at the Pueblo of Acoma.
Emerson's primary interests are in the economic development of his pueblo, the welfare of his native lands, and the promotion of cultural tourism in New Mexico and all of Indian Country. He is an Air Force veteran with more than 24 years of service. He has served as the Chief Executive Officer for the Isleta Business Corporation. Currently, Emerson serves as the Principal Systems Engineer for the Air Force's Distributed Mission Operations Center's Modeling and Simulation enterprise.