World Heritage USA 2021 Symposium
Moderated by World Heritage USA President Douglas C. Comer and Vice Chair Destry Jarvis
Day Two:
Using Traditional Cultural Knowledge and Climate Justice to Mitigate Climate Change Effects at World Heritage Sites
Plenary Session (1 – 1:45 pm)
Jyoti Hosagrahar is Deputy Director for the World Heritage Centre at UNESCO. Among other responsibilities, she leads the implementation of the Historic Urban Landscape Recommendation, the World Heritage Cities Programme, World Heritage and Sustainable Development, the Earthen Architecture Programme, the Modern Heritage Programme, as well as the Culture|2030 Indicators for measuring Culture in the 2030 Agenda across all the Culture Conventions and Recommendations. From May 2016-November 2018, Jyoti served as Director of the Division for Creativity at UNESCO. Prior to joining UNESCO, she was a professor and Director of the SUI Lab at GSAPP, Columbia University, New York, 2005-2016; UNESCO Chair in Culture, Habitat, and Sustainable Development at Srishti Institute of Art, Design, and Technology in Bangalore, India where she was also Chair of the Ph.D. program, 2012-2016; and Founder-Director of Sustainable Urbanism International (SUI), an NGO in Bangalore, India, 2003-2016. She has a Ph.D in Architecture and Urbanism from the University of California, Berkeley.
Session Three (2 – 3:30 pm):
Intangible: How Climate Change Affects Tribal Identity, Values, and Traditions, Shasta Gaughen

What Scientists are Learning from Indigenous People, Karen Atkinson

Indigenous Knowledge, Kinship and Fire Application in Climate Change Conservation, Rob Markham
Session Three Panelists
Shasta Gaughen, Ph.D., Environmental Director/Tribal Historic Preservation Officer
Shasta Gaughen is the Environmental Director and the Tribal Historic Preservation Officer for the Pala Band of Mission Indians in Pala, California. She has worked for Pala since January 2005, and established Pala's Tribal Historic Preservation Office in 2008. Dr. Gaughen received her Ph.D. in Anthropology from the University of New Mexico and is on the faculty of the department of anthropology at California State University, San Marcos. She is Chair of the National Association of Tribal Historic Preservation Officers, a member of the Advisory Council on Historic Preservation, Secretary of the Board for the Native American Environmental Protection Coalition, lead of the Tribal Working Group for the Climate Science Alliance, and a member of the Institute of Tribal Environmental Professionals' Climate Change Advisory Committee. Dr. Gaughen oversees the Tribal Climate Health Project, a grant-funded education and outreach project that includes a website, resource clearinghouse, webinars, videos, and in-person presentations on climate change and health adaptation in Tribal communities.
Karen J. Atkinson, former National Park Service Deputy Director, CEO of Tribal Strategies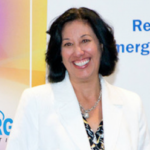 Karen Atkinson (Mandan, Hidatsa, and Tsimshian) has had a distinguished career as a legal and policy expert on federal Indian law, public lands, and economic development. Karen retired recently after serving in senior leadership positions in Washington, D.C., where she provided a native voice and was instrumental in shaping national policies. Karen began her career in Washington as Senior Counselor at the Department of Interior where she advocated on tribal issues related to the Fish and Wildlife Service and National Park Service. One of her most rewarding projects was to represent the U.S. government in negotiations with the Timbisha Shoshone Tribe to establish an 8,000 acre homeland for the Tribe within Death Valley National Park. Karen was also promoted to Deputy Director, the first Native American appointed to a senior leadership position in the National Park Service. Karen also served as Senior Counsel to the United States Senate Indian Affairs Committee where she was instrumental in the effort to the draft the Indian title of the Energy Policy Act of 2005.Throughout her career Ms. Atkinson has been a strong advocate for a tribal voice in environmental, cultural and public land management. Karen is graduate of Stanford University and the University of New Mexico Law School.
Rob Markham, Indigenous Knowledge Broker, State of Environment Report, Australia, and Jawoyn Traditional Owner from Kakadu National Park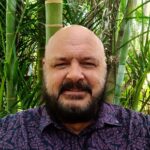 Rob Markham has 15 years of experience applying Indigenous knowledge in Kakadu National Park conservation management as a Park Ranger. He graduated with honors from The University of Queensland (Honours thesis: The Contextualisation of Indigenous Knowledge) and is currently a Masters researcher working on the thesis "Indigenous Knowledge in Environmental Sciences."
Session Four (3:45 – 5:15 pm):
Navigating the Narrative Divide – Challenges and Opportunities for Interpreting Climate Change on the World Stage, Milward Simpson

Legislating Sacred Relationships: Indigenous Heritage, Cultural Landscapes and Climate Change, Cody Groat

Making Conscious Connections, Marta Cruz Kelly

Interns and Climate Change: Engaging the Future to Educate Communities, Krista Rogers
Session Four Panelists
Milward Simpson, Executive Director, National Association for Interpretation (NAI)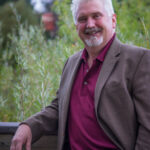 Milward Simpson is responsible for all aspects of NAI's business development and management including strategic planning, fundraising, marketing and public relations, personnel management, data management, external communications, partnership management and management of the organization's finances. Milward comes to NAI having spent a diverse career in nonprofit and state government cultural and natural resources management in Colorado, Minnesota and Wyoming. He has been the artistic director of a historic site and theme park, a performing and visual arts center director, a state arts agency director and an administrator of state government historic preservation agencies. He served for ten years in the Cabinet-level position of Director of the Wyoming Department of State Parks and Cultural Resources, and, subsequently as Wyoming State Director for The Nature Conservancy. He brings his wealth of experience and passion for interpretation to his role as NAI's Executive Director. In addition to enjoying time with their three children and two grandchildren, Milward and his wife Amy enjoy gardening, cooking, biking, reading, travel, music, and live theater.
Cody Groat, Assistant Professor at Western University and President of the Indigenous Heritage Circle, Canada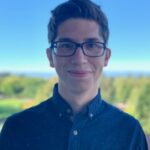 Cody Groat is an Assistant Professor in the Department of History and the Indigenous Studies Program at Western University. He is Kanyen'kehaka (Mohawk) and a band member of Six Nations of the Grand River. He completed an MA in World Heritage Studies from the University of Birmingham (UK) in 2017 through the Ironbridge International Institute for Cultural Heritage. His research focuses on the federal and international commemoration of Indigenous cultural heritage. Cody serves as the Chairman of the Canadian Commission for UNESCO Memory of the World Program, responsible for recognizing Canada's most significant documentary heritage collections, and is the President of the Indigenous Heritage Circle, a national not-for-profit dedicated to the advancement of Indigenous (First Nations, Inuit and Metis) cultural heritage.
Marta Cruz Kelly, NPS Assistant Director for Interpretation (retired)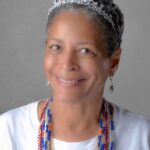 Marta Cruz Kelly is on a mission to raise awareness of the environmental spiritual heritage of people of color. "We have a sacred remembering of who we are when we connect to the land and our story" said Kelly, who is a 42-year veteran of environmental education. She believes strongly it is a moral responsibility to reeducate how we are living on the planet.
In 2019, Marta retired from the National Park Service where she served in many education roles including as Chief of Interpretation and Education. Prior to working for the National Park Service, she worked for the Student Conservation Association, Philadelphia Ranger Corps, and other environmental organizations. She currently manages her own organization to provide in-depth spiritual and educational experience for those seeking a healing connection to the earth. She is also a volunteer for experience education at the Bronze Kingdom where African environmental and spiritual heritage are nurtured and honored. Marta lives in Orlando, Florida and is a graduate of Indiana University School of Environmental and Public Affairs.
Krista Rogers, Corps Director, Conservation Legacy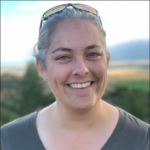 Krista Rogers (she/her) is the Corps Director for the Stewards Individual Placements Program, a program of Conservation Legacy. She has worked in youth development and conservation sectors for eighteen years. She leads Conservation Legacy programming of the Scientists-in-Parks and the Community Volunteer Ambassador projects and specializes in large-scale national internship initiatives.