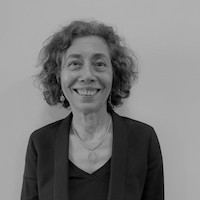 Former US/ICOMOS Trustee and current ICOMOS Board member Pamela Jerome is running for ICOMOS Treasurer in the October 2020 ICOMOS General Assembly elections. Pamela has 39 years' experience as a preservation architect. She is President of Architectural Preservation Studio, DPC, a New York City-based 17-person architecture and preservation firm that is also a certified WBE (Women Business Enterprise). Consulting on projects both in the U.S. and internationally, Pamela has won numerous prestigious awards for her work, and is a fellow of US/ICOMOS, APT (Association for Preservation Technology International) and AIA (American Institute of Architects). She has shared her expertise with countries that have limited capacity, for instance her work in Yemen over a 15-year period as a cultural heritage advisor, director of a documentation-training program, and capacity-building for local NGOs, architects, government employees and craftsmen. Pamela has consulted on projects worldwide including the U.S., Mediterranean, Black Sea, Middle East and Far East. In the U.S., she is probably best-known for her award-winning work on the Solomon R. Guggenheim Museum and Fallingwater, now both part of the World Heritage site commemorating Frank Lloyd Wright's 20th-century architecture.
Pamela has shared her knowledge, not only with developing countries, but also with students around the world. In addition to teaching at Columbia University's graduate program in historic preservation from 1995-2017, Pamela has taught at international training programs, including at ICCROM (Rome), GOPHCY (General Organization for the Protection of Historic Cities in Yemen) (Sana'a) and Academia Istropolitana Nova (Bratislava), and has lectured worldwide. She also taught professional seminars at New York University's School of Professional Studies for 13 years. She is widely published.
Pamela has a deep commitment to ICOMOS, which began in 1989 when she first joined US/ICOMOS. She became a very active member of our National Specialized Committee on Earthen Architecture, co-writing a successful NCPTT grant that led to the GCI/NPS/NCPTT-organized Protective Shelters for Archaeological Sites colloquium in 2001. She became a Trustee of US/ICOMOS in 2003 where she served for six years, leading our programming efforts. In 2004, she was instrumental in the dissolution and re-creation of the International Scientific Committee on Earthen Architectural Heritage. She served as the appointed Vice President for a year and then was elected to be Vice President from 2006-2015. Two years ago, she was again elected to ISCEAH's Bureau, this time as Secretary-General. In 2004-2005, Pamela was very involved in the drafting of the Eger-Xi'an Principles, which re-conceived the rules of operation for International Scientific Committees opening them up to wider membership instead of one representative per National Committee.
A dual citizen, Pamela is also a member of ICOMOS Hellas, whose membership is offered through peer review only. She is additionally an Expert Member of ISC20C (International Scientific Committee on 20th-Century Heritage) and CIAV (International Committee on Vernacular Architecture). She was elected a Scientific Council Officer for ICOMOS where she served for nine years (2006-2015), elevating the credibility of ICOMOS's International Scientific Committees through the restructuring of several non-functioning committees, overseeing the formation of new committees, developing interdisciplinary scientific programs including ICOMOS's early investigations into the impact of climate change on cultural heritage (2007), overseeing the organization of seven Advisory Committee symposia, and collaborating with ICOMOS France and ICOMOS Italy on the scientific programs of the Triennial General Assemblies in Paris (2011) and Florence (2014). She has also participated on numerous symposia scientific committees for all three ISCs of which she is a member. From 2008-2014, Pamela was the Scientific Council representative to the Board and was the third American to participate on the ICOMOS World Heritage Panel (2010-2014). In 2017, she was highly instrumental in the final re-drafting of the Delhi Declaration, which was unanimously adopted at the Triennial General Assembly in New Delhi.
In 2014 at the Florence Triennial General Assembly, Pamela was elected to the Board. In her capacity as Board member, she has been involved in the working group on heritage destruction focusing on Syria, Iraq, Yemen and Mali and participated as a panelist in a Secretariat-developed symposium at ICOMOS headquarters. She oversaw the organization of Advisory Committee symposium in Buenos Aires and is the Board liaison to the Climate Change Working Group. She is now part of the Working Group that is updating the Eger-Xi'an Principles.
Pamela is currently running for the Bureau of the Board in the position of Treasurer, where she hopes to apply her considerable energy, heritage knowledge and grant-writing experience to fundraise so that ICOMOS can reach its full potential in terms of programming. She also hopes to establish an endowment for ICOMOS in order to secure the financial future of the organization. In addition to US/ICOMOS's nomination, Pamela has received over a dozen letters of support from ICOMOS colleagues around the world.