This is the first essay in a series about US/ICOMOS Institutional Members and Supporters. We're very pleased to begin the series with Kent Diebolt; Vertical Access LLC, the company he founded; and 1% for the Planet, the philanthropy through which Kent supports US/ICOMOS.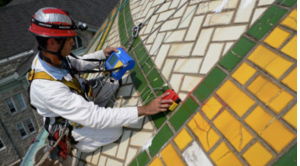 Among US/ICOMOS institutional members, one organization is absolutely unique: that organization is Vertical Access, founded by Kent Diebolt in 1992 to utilize lightweight rigging systems—i.e. climbing harnesses and ropes—to conduct condition surveys on all types of structures. Vertical Access provides specialized building inspections and condition reports for architects, engineers, and conservators utilizing efficient, lightweight rigging systems. This unique approach to architectural investigation offers quick, "hands-on" access without expensive scaffolding, cranes, and boom lifts.
Buildings and monuments with hard-to-reach areas such as steeples, domes, towers, chimneys, and high parapet or screen walls are the company's specialty. Since the first Vertical Access project in 1992, Kent and his team have inspected a number of historically significant buildings, constructed of a wide variety of materials, including brick and stone masonry, terra cotta, concrete, architectural sheet metals and cast iron. While most of the firm's work is on historic buildings, other projects include contemporary buildings, bridges, towers, monuments and sculptures.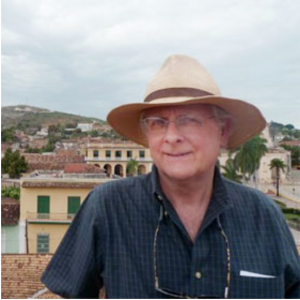 Kent founded Vertical Access after learning about the use of lightweight rigging systems to conduct condition surveys from a former fellow graduate student from England, where the practice was already highly developed in the 1980s. More recently, Vertical Access has ventured into the use of drones to conduct surveys as well.
Vertical Access has been an Institutional Member of US/ICOMOS since the mid-1990s. Kent explained how he came to join and support US/ICOMOS: "When I founded Vertical Access in 1992, our primary focus was on the investigation and documentation of monumental historic buildings. Accordingly, my nascent company joined a number of professional and heritage organizations, including US/ICOMOS and The Association for Preservation Technology International (APTI). During a two-year stint as APTI Board liaison to US/ICOMOS, I became more familiar with the mission, finances and operations of both organizations."
In addition to contributing as an Institutional Member, Kent also supports US/ICOMOS through 1% for the Planet. This support has been very meaningful to US/ICOMOS over the years. Here is how Kent described his discovery of 1% for the Planet, its mission, and his decision to donate to US/ICOMOS:
 "The notion of Vertical Access's engagement with 1% For the Planet (1% FTP) began on the Supreme lift at Alta, Utah with one of my children, then a student in environmental studies at Macalester College. 1% FTP was conceived in 2002 by Yvonne Chouinard, who had previously founded Chouinard Equipment Ltd., which ultimately became Black Diamond Equipment Co. and the well-known outdoor clothing company, Patagonia. 1% FTP is predicated on each donor's pledge to commit to setting aside 1% of their annual gross income in support of a wide array of approved not-for profit organizations with a focus and impact on environmental issues.
 Between ski runs, a number of questions came up, and Asa was deputized as Director of Philanthropy for Vertical Access. This was a little tongue-in-cheek but he took full responsibility for setting up the entire structure. I was the only owner of the company at the time, business was good, our success and brand were growing and I wanted to "give back" to the organizations within my field that I felt were making a difference.
 Subsequent to becoming a donor member of 1% FTP, Asa and I began looking into various recipient not-for-profits that were in alignment with our goals and values within the architecture, engineering and cultural heritage fields. Finding few, we got in touch with both APTI and US/ICOMOS and urged them to apply for recipient status with 1% FTP. Both organizations did so, and both were approved. As a result, we have supported a number of special programs and funding for scholarships and general endowments since 2007. While we also give to other organizations, APTI and US/ICOMOS represent the bulk of our giving.
 Later, just after I'd been joined by two amazing key employees who became my business partners, we were hit by the Great Recession and it became increasingly difficult to maintain staff, pay ourselves, and continue to support 1% FTP. We discussed this at length and decided that even in hard times, we could all afford to live on 1% less than whatever we had been earning. Of course, this is also true of many of us fortunate enough to live here in the United States.
 With that perspective in mind, we maintained our commitment and have continued to fulfill that pledge, in good times and in bad. As a company, we are all proud to be part of this program. Although we have encouraged our colleagues to consider becoming 1% FTP members, curiously, and to our disappointment, we have never become an exemplar of this program within our field."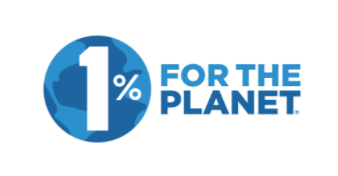 To date, over $250 million has been donated by donor companies to environmental nonprofits certified by 1% for the Planet. We are honored to be among these recipients. We also encourage you and your organization to learn more about 1% for the Planet, which offers giving programs for both organizations and individuals: https://www.onepercentfortheplanet.org/. We hope that our other members will consider joining Kent and Vertical Access in their support of environmental non-profits and US/ICOMOS. Thank you, Kent and Vertical Access for your continued support.