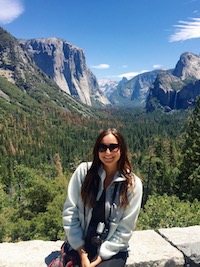 Although the status of the 2020 International Exchange Program (IEP) is still undecided, US/ICOMOS is fortunate to have one intern working with us remotely for the next month: Courtney Piper, a full time student pursuing a Master's degree in International Cultural Heritage Management at Durham University in the UK. Courtney is from Jacksonville, Florida, and attended Florida State University for her undergraduate studies in Anthropology and Museum Studies. Courtney chose Durham for graduate study because it "offers students the opportunity to learn from heritage experts all over the world through a variety of workshops and seminars. Durham University is also unique in that it provides the ability to learn and study at a UNESCO World Heritage Site itself."
Courtney contacted US/ICOMOS regarding an internship to further her knowledge of world heritage advocacy and to help US/ICOMOS generate a stronger connection with the public. She will be assisting us with advancement research and social media and other communications projects.
When asked "Why World Heritage?", Courtney replied, "I have been fortunate thus far to experience UNESCO World Heritage Sites ranging from Yosemite National Park in the U.S. [ed. where Courtney is pictured above] to the Asante Traditional Buildings in Ghana, West Africa. There is no question that today we are faced with critical challenges to the protection and management of both natural and cultural heritage sites including climate change, political conflict, and funding. I find that studying the tangible and intangible significance of heritage on an international scale allows us to better examine the context in which it exists and generate a global dialogue for how we can protect it."
Welcome, Courtney! We're very pleased to have your remote assistance.