Last summer International Exchange Program (IEP) intern Fernanda Maes of Brazil worked with the City of San Antonio World Heritage Office on an assessment of potential opportunities for roadside motels in the World Heritage Area. Fernanda now has the opportunity to present her work in Sydney at the  ICOMOS 21st General Assembly but she needs our help to get there. Help fund Fernanda's travel by making a contribution here.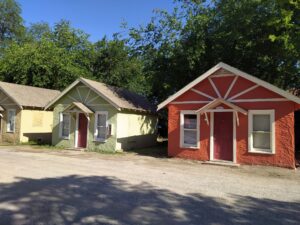 "The City of San Antonio's World Heritage Office is proud of the work that Miss Maes completed here in San Antonio and especially of her most recent accomplishment. Fernanda's background in architecture and urban planning, as well as her commitment to preservation and cultural heritage contributed to the success of her work and ultimately presentation of it at the 2023 ICOMOS International Scientific Symposium. We are grateful to the World Heritage USA International Exchange Program, which allows our City to work with emerging professionals to share ideas and best practices. It was a pleasure to work with Fernanda and we look forward to following her future achievements."  – Colleen Swain, Director, City of San Antonio World Heritage Office
Please help support Fernanda's journey to Sydney: Donate Now!