Part Three in a series about "The 20th-Century Architecture of Frank Lloyd Wright" World Heritage listing. (Part 1 and Part 2 are available at these links).
"The 20th-Century Architecture of Frank Lloyd Wright" World Heritage listing includes two of the architect's personal residences and architecture studios: Taliesin in Spring Green, Wisconsin, and Taliesin West in Scottsdale, Arizona. Designed, constructed and reconstructed over decades beginning in 1911 (Taliesin) and 1938 (Taliesin West), the two sites embody Wright's career-long development of an organic modern architecture intimately connected to landscape. Both sites are owned and stewarded by the Frank Lloyd Wright Foundation, which maintains and preserves the buildings at Taliesin and Taliesin West, along with Wright's intellectual property.
Continue reading to learn more about why these sites were included in the serial World Heritage listing and how to visit them or participate in their programming.
Taliesin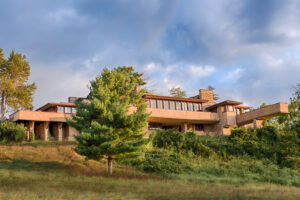 Designed as a home, studio and farm, Taliesin is the primary example in the World Heritage listing of an architectural form that has an integral relationship with its natural settings. Taliesin—"shining brow" in Welsh, the native language of Wright's Wisconsin ancestors—appears to grow from its hillside. The home features an extensive use of local materials such as minimally dressed local limestone and a careful integration with its surrounding gardens, hills and farm.
Taliesin is also part of a larger landscape and complex of Wright-designed buildings in "the Valley of the God-Almighty Joneses," where Wright spent his summers as a teenager and then settled for a period of almost 50 years beginning in 1911. The Taliesin we see today was developed over decades due to two disastrous fires and Wright's tireless creative explorations. It functioned as a home and as a laboratory for the architect and his apprentices to work out ideas that were then incorporated into works across the United States.
Visiting Taliesin
The public programs at Taliesin, including tours, events, and education, are run by Taliesin Preservation, Inc. A variety of in-person tours are offered; camps are held each summer; and special events occur year round.
The Frank Lloyd Wright Foundation, which undertakes all of the preservation and maintenance of the buildings and estate is currently working on a full restoration of the Hillside Theatre at Taliesin with assistance from a National Park Service "Save America's Treasures" grant. Restoration of the Hillside Theatre and its entry foyer will return the audience and performance spaces to their historic beauty and support expanded programmatic and seasonal use.
Taliesin is located at 5481 County Road C, Spring Green, WI, 53588.  Website: https://www.taliesinpreservation.org/
Taliesin West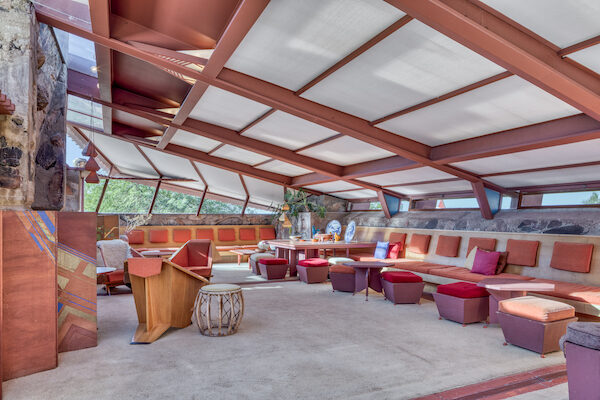 Frank Lloyd Wright set about designing and building Taliesin West in 1938 with a group of 30 apprentices and his family. As a winter camp and desert design laboratory, Taliesin West stands in stark contrast to Taliesin in Wisconsin. However, like Wright's Wisconsin home and studio, Taliesin West served as a lively site of experimentation from 1938 until the architect's death in 1959 at 91 years of age.
Taliesin West's walls are made of "desert masonry" comprised of stones from the desert held together with Portland cement and sand from the site. The rough masonry appears to rise from the desert floor, while the redwood posts and beams at the site mimic the forms of the nearby mountains. Before their arrival at Taliesin West, Wright advised apprentices, "when you get
here in the desert […] get that lesson from nature in architecture which is fundamental to the whole thing we call architecture."
In the language of the World Heritage nomination, Taliesin West is "the primary illustration in the series of contrast and carefully composed paths of movement creating richness of experience." The desert setting and rugged stone and concrete work of Taliesin West contrast with the modern sensibility of the design, while the choreography of movement through the site creates a dramatic awareness on the part of the visitor of their relation to the architecture and environment surrounding them.
Visiting Taliesin West
Taliesin West is administered by the Frank Lloyd Wright Foundation which presents a broad range of tours to the public year- round. Taliesin West also offers education programs, camps, and student field trips. New programs for adult education are currently in development and will be announced soon. To learn about these offerings, visit https://franklloydwright.org/taliesin-west/.
Taliesin West is also excited to announce that Dale Chihuly will exhibit his stunning, large-scale glass installations in "Chihuly in the Desert," from December 3, 2021, through June 19, 2022, at Taliesin West and the Desert Botanical Garden in Phoenix. Stuart Graff, president and CEO of the Frank Lloyd Wright Foundation, says "With our World Heritage buildings and mountainous desert backdrop, the Frank Lloyd Wright Foundation presents its first exhibition of this kind, revealing how art, architecture and nature come together to connect our visitors more deeply with the world around them" Make plans to visit now: https://www.chihulyinthedesert.org.
Taliesin West is located at 12621 N. Frank Lloyd Wright Boulevard, Scottsdale, AZ 85259.  Website: https://franklloydwright.org/