by Patricia M. O'Donnell (pictured at left above, with Darwina at right)
9 September 2021
Darwina L. Neal (born 1942, deceased 4 September 2021) Landscape Architect and Cultural Landscapes Expert, trailblazed a leadership role for women in her chosen profession and served tirelessly as an advocate for public landscapes and valued heritage, locally, nationally, and globally. Appreciated by a multitude of colleagues for her smile, positive demeanor, collaboration, and skills, Darwina led and cooperated with others to make a difference in works, organizations and friendships worldwide.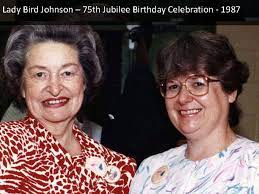 With a Bachelor of Science in Landscape Architecture from Pennsylvania State University, Darwina began a pioneering, fruitful career in the U.S. National Park Service in 1965 continuing to 2009 and retiring from the post of Chief of Cultural Resources, NPS Capital Region.
Darwina contributed her time, skills and resources to US/ICOMOS from 1985 to 2019, serving on the Board as a trustee, as Treasurer and on our national Cultural Landscape Committee, and was honored as Fellow of US/ICOMOS in 2007. Through both ICOMOS and IFLA she contributed to the scientific works of the ICOMOS IFLA International Scientific Committee on Cultural Landscapes (ISCCL) from 2002 to 2021.
In her speech for the 2016 ASLA Potomac Chapter Lifetime Achievement Award, Darwina stated "I believe in giving back. . . and passing on. . . that fostering connections, mentoring, and nurturing friendships are important whatever you do. . . and have tried to do that in all my professional work and organizations . . national and international." She succeeded in those laudable beliefs, as demonstrated by her worldwide ISCCL colleagues remembering her friendship and skills as a tireless collaborator who aided in building understanding and mutual respect and forging partnerships and alliances, to get important initiatives underway and see them through, achieving shared objectives. Darwina L. Neal was a woman of passion and commitment who championed landscape architecture and heritage preservation, having a global impact. She was deeply appreciated. We honor her many contributions as we miss her strength and friendship.