By Miles Ezeilo
One of the focal points of the Monuments Toolkit is to recognize heritage in all forms
and fashions. This is exactly why we take pride in telling the correct versions of history:
the most beautiful stories are the ones rooted in truth. This month we're continuing with
American Indian Heritage Month. It's a time to honor the vivid histories, numerous
cultural traditions, and significant contributions of the country's original inhabitants. In
honor of American Indian Heritage Month, US/ICOMOS and the Monuments Toolkit
would like to shed some light on some notable American Indian statues around the
country.
Chief Black Hawk Statue (Lake View, Iowa)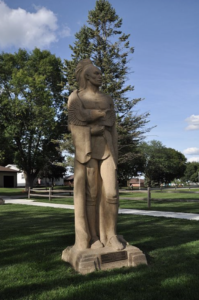 Black Hawk, born Ma-ka-tai-me-she-kia-kiak (Sauk: Mahkatêwe-meshi-kêhkêhkwa) cemented his place in history in the early 1800s with his courage and leadership. He actually fought in the War of 1812 on the side of the British against the US in an effort to drive white Americans out of Sauk territory. Later, during the 1832 Black Hawk War, he led a group of Sauk and Fox warriors known as the British Band against white settlers in Illinois and modern-day Wisconsin. At the Battle of Bad Ax, Federal forces chased and defeated the Sauk from Illinois into Wisconsin. Black Hawk, who gave himself up, was held captive for a number of months. After being brought back to Iowa, Black Hawk spent the remainder of his days in a little community on the Des Moines River in Van Buren County, which is situated in southeast Iowa. He passed away on October 3rd, 1838 but his legacy continues to live on. 
In Lake View, Iowa, the Chief Black Hawk Statue is a significant landmark. The statue was a goal of Dr. E.E. Speaker and the Lake View Commercial Club's 1932 campaign to establish Black Hawk State Park on the coast of what was then known as Wall Lake. The statue was made by University of Iowa associate professor and sculptor Harry E. Stinson. Chief Black Hawk is a slightly life-sized statue that stands nine feet tall from toe to top and is supported by a square pedestal that raises the statue's total height to eleven feet.
2. Sitting Bull Monument (Mobridge, South Dakota)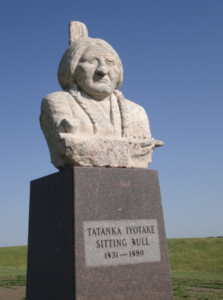 Sitting Bull (born approx. 1830) was an iconic figure for his work in resistance against United States government removal tactics. As a leader of the Hunkpapa tribe, he established a resistance organization in order to protect regions reserved by treaties and rose to prominence as a spiritual leader. He would later go on to be the first man to become chief of an entire Lakota nation. Sitting Bull also gained notoriety for his proficiency in close combat and amassed a number of crimson feathers that represented battle wounds. "Sitting Bull, I am he!" his fellow warriors began shouting as word of his deeds spread. to terrify their opponents while engaged in fight. The most amazing example of his bravery was when the Sioux and U.S. Army engaged in combat in 1872 while waging a campaign to stop the Northern Pacific Railroad's development. The middle-aged chief walked out into the open and sat down in front of their lines as a sign of his disdain for the men. He then continued to enjoy a long, leisurely smoke from his tobacco pipe, disregarding the hail of bullets flying by his head while inviting numerous others to join him. Sitting Bull passed away on December 15, 1890. 
Clarence Grey Eagle, a descendant of Sitting Bull through marriage, and a group of Mobridge businessmen requested a report from the Bureau of Indian Affairs in 1953, arguing that Sitting Bull's family should choose the location of his final resting place. Within 5 months, a bust was sculpted by renowned sculptor Korczak Ziolkowski, who is best known for the Crazy Horse monument in the Black Hills.The statue is located in a remote area that is always peaceful, magnificent, and open to visitors. It is a cherished local landmark of great significance that is still remarkably unspoiled and a gorgeously remote location for picnickers and history enthusiasts alike.
3. Crazy Horse Monument (Rapid Creek, South Dakota)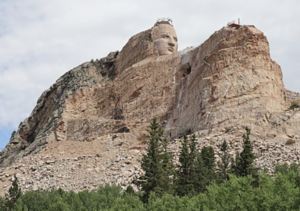 Crazy Horse is one of the most well-known figures in American Indian history due to his military and strategic prowess during times of war. In order to stop white Americans from settling on Native American land and to protect the Lakota people's traditional way of life, he took up arms against the US government. In 1866, A series of forts were erected in Sioux territory by General William Tecumseh Sherman as a result of the finding of gold along the Bozeman Trail in Montana.A regiment led by Captain William Fetterman engaged Sioux and Cheyenne warriors in a battle, but Crazy Horse used 80 white soldiers as a ruse to lure the rest of the fleet into an ambush where they were killed. Following this, Sherman visited the Native prairie regions shortly after to speak with leaders and look for peace. Crazy Horse denied these gestures and chose to continue fighting back against the US invasion of Lakota land. One of his most notable wins came at the Battle of Little Bighorn on June 25, 1876. At the Battle, better known as Custer's Last Stand, Crazy Horse led up to 1,000 warriors to flank Custer's forces and contribute to the general's tragic defeat and demise. Oglala Sioux leader Crazy Horse is fatally bayoneted by a U.S. soldier after resisting confinement in a guardhouse at Fort Robinson, Nebraska. Crazy Horse was fatally shot a year later during the final years of the Sioux War. 
In Custer County, South Dakota, the Crazy Horse Memorial is a mountain memorial that is now being built on privately owned territory in the Black Hills. It will show Crazy Horse riding a horse and pointing to his tribal territory. A Lakota elder named Henry Standing Bear hired sculptor Korczak Ziolkowski to create the memorial. The Crazy Horse Memorial Foundation is in charge of running it, and when completed will be the second tallest statue in the world at over 560 feet tall. 

Sources:
National Register of Historic Places " Chief Black Hawk Statue" ref no. 00000532
Andrews, Evan. "10 Things You May Not Know about Sitting Bull." History.com, A&E Television Networks, 15 Dec. 2015, https://www.history.com/news/10-things-you-may-not-know-about-sitting-bull.
"Crazy Horse (Tashunka Witco)." National Parks Service, U.S. Department of the Interior, 13 Oct. 2022, https://www.nps.gov/libi/learn/historyculture/crazy-horse.htm.
History.com Editors. "Crazy Horse." History.com, A&E Television Networks, 24 Aug. 2018, https://www.history.com/topics/native-american-history/crazy-horse.
Mobridge, City of. "Sitting Bull Monument." Sitting Bull Monument, https://mobridge.org/sitting-bull-monument. 
Roger L. Nichols, Black Hawk and the Warrior's Path (Arlington Heights, Illinois: Harlan Davidson, 1992; ISBN 0-88295-884-4), 4, 12.
Image Sources:
 National Register of Historic Places (Chief Black Hawk)

City of Moburg Area Chamber (Sitting Bull)

Crazyhorsememorial.org (Crazy Horse)